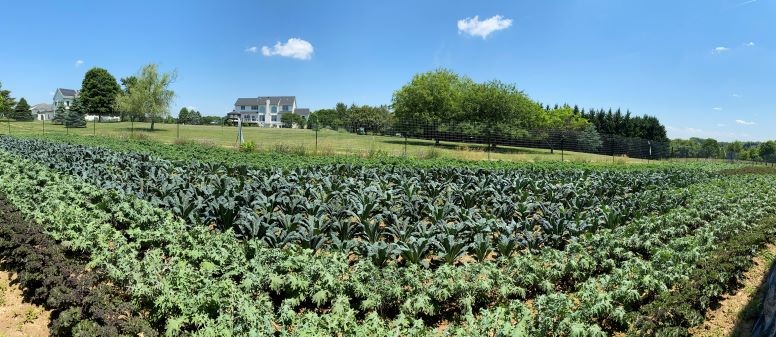 By: Annarose Kennedy, CFR coordinator
Collards, chard, kale, oh my! As warm weather and longer days are upon us, I have had the wonderful opportunity to start visiting the various farms in the County's Farm to Foodbank program, administered by Manna Food Center's Community Food Rescue (CFR). As CFR's coordinator taking the lead on Farm to Foodbank, it is so exciting for me to get to know our local farmers and see that every farm operates differently in its own unique way.
I recently had the pleasure of meeting Tope  Fajingbesi and her husband Oloniyi ("Niyi") Balogun, who own Dodo Farms in Brookeville, MD. After relocating to the United States from Nigeria, Tope, who is an accountant and an agribusiness lecturer and advisor at the University of MD, was joined by her husband. Niyi was able to match with the land in Brookeville through the Montgomery Countryside Alliance's Land Link program. On their certified naturally organic farm, they are committed to helping you live well by eating well. After getting a tour of the farm, where I saw rows and rows of beautiful greens from collards to kale, I had the chance to sit down with Tope and hear more about her experience growing this farm.
She is one of the most inspiring people I have had the privilege of meeting. We talked about how difficult it is to operate a local farm, where oftentimes breaking even doesn't happen. We talked about what food assistance providers would like to see more of in terms of produce that is culturally appropriate for the communities they serve. What struck me the most was Tope's resilience and determination to make this farm a success. In the face of various hardships and barriers, Tope has unwaveringly stood strong in her passion to grow healthy and nutritious food for communities in Montgomery County. Her participation in the Farm to Food Bank program has been extremely beneficial to those who face hunger and food insecurity.
I look forward to the continued work Manna does with Tope and Niyi; their mission is inspiring and incredibly important. I'm honored to be able to meet farmers and see their operations in person. I can't wait to see many more!
The County Farm to Food Bank program strengthens our local food economy by supporting Montgomery County farmers and provides better access to fresh, local, nutritious food for residents experiencing food insecurity. For more information, visit, Farm to Foodbank.
To learn more about the history of Dodo Farms, read this Washington Post article.