Our Network
The CFR network is made up of licensed food businesses, food assistance organizations, and volunteer food runners who play a critical role in feeding more people who experience hunger, while reducing waste in Montgomery County, Maryland.
192 Donors
73 Recipients
179 Volunteer Food Runners
5.8 Million lbs. of food rescued and distributed
4.8 Million Meals
CFR Network Members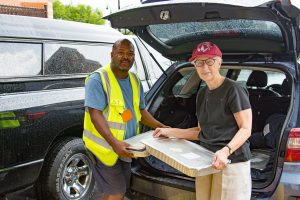 D indicates food donor and R indicates recipient organization. Some organizations participate as both!
4935 Bar and Kitchen (D)
7-11 Rockville (D)
Abyssinia Restaurant (D)
Adrianne's Safe Haven (R)
Adventist Community Services of Greater Washington (D)
Adventist Community Services (R)
All Set (D)
Albert Uster Imports Inc. (D)
Aldi's Frederick (D)
Amazi Foods (D) 
American Tap Room (D)
Ann Mackey's Senior Home (R)
Asbury Methodist Village (D)
The Armand Center (R)
Atwater's Bakery (D)
Becky's House (R)
Bethesda Bagels (D)
Bethesda Blues and Jazz Club (D)
Bethesda Cares (R)
Bethesda Co-op (D)
Bethesda North Marriott Hotel & Conference Center (D)
Blair High School (R)
Bullis School (D)
Burgerfi (D)
Butler's Orchard (D)
Butler Montessori School (D)
Busboys and Poets (D)
Charles E. Smith Jewish Day School (D)
Chef Tony's Restaurant (D)
Chicken Of The Woods Permaculture Farm (D)
Capital Area Food Bank (D)
Catholic Charities – Dorothy Day Place (R)
Cedar Ridge Community Church Farm (D)
Celestial Manna (D,R)
Century Distributors (D)
CHI Centers, Inc. (R)
China East (D)
Chocolate and Tomatoes Farm (D)
Chrisma Charities (R)
Clifton Park Baptist Church (D,R)
Common Root Farm (D)
Corcoran Caterers (D)
Costco (D)
Custom Cake Design (D)
Dawson's Market (D)
DC Central Kitchen (D)
Denizens Brewing Company (D)
Difference Makers/Kokua Foods (D,R)
Dress It Up Dressing (D)
Drinkmore Custom Water (D)
EduCare Support Services Inc. (R)
Egan's Barbeques (D)
El Golfo Restaurant (D)
Falcon Ridge Farm (D)
FarmAtHome Produce (D)
Family Services Inc. (R)
Feys Unit (D)
Food Lion (D)
Food Recovery Network (R)
Forest Glen Commissary (D)
Fresh Baguette (D)
From the Earth Foods Farm (D)
Fruitful Trees and Gardens (D)
Gaithersburg HELP (R)
Georgetown Bagelry (D)
Germantown HELP, Inc. (R)
Ghar-E-Kabab (D)
Giant (D)
Gilly's (D)
GlaxoSmithKline (D)
Global Food (D) 
God Glorified Church of God in Christ (R)
Good Hope Union UMC (R)
Green Plate Catering (D)
Glen Haven Elementary School (R)
growingSOUL (D,R)
Halal Guys (D)
Harp and Fiddle (D)
Harris Teeter (D)
Harvest Plates and Pints (D)
HavServe Volunteer Service Network Inc. (R)
Heritage House (R)
High Point Events (D)
Honey Baked Ham Corporate (D)
Honey Baked Ham Gaithersburg (D)
Honeyflower Foods (D)
House of Divine Guidance (R)
Hungry Harvest (D)
Hyatt Regency Hotel-Bethesda (D)
Identity (R)
Imperfect Produce (D)
Interfaith Works (R)
ISKCON of DC (D)
Jaleo Bethesda (D)
Jenny Cakes Bakery (D)
Judith A. Resnick Elementary School (D)
Kaldi's Coffee (D)
Kentlands Main Street Market (D)
Kin Da Thai and Sushi Restaurant (D)
KindWorks (D,R)
Koiner Farm (D)
Le Pain Quotidien (D)
Lewis Orchards (D) 
Liberty Grove UMC Food Pantry & Community Supper (R)
Linkages to Learning at Sargent Shriver Elementary (R)
Linkages to Learning at Highland Elementary (R)
Manna Food Center (D,R)
Manny & Olga's (D)
Marriott International HQ Test Kitchen (D)
Marriott International Headquarters-Bethesda (D)
Mark's Kitchen (D)
Matchbox (D)
McGinty's Irish Public House (D)
MCPC Food Services Test/Catering Kitchen (D)
Meals on Wheels of Takoma Park/Silver Spring (R)
Meals on Wheels Wheaton (R)
Middle Eastern Cuisine (D)
MOMOs (D)
MOM's Organic Market (D)
Montgomery College (D)
Montgomery County Coalition for the Homeless (R)
Montgomery County Muslim Foundation (D,R)
Montgomery County Public Schools Food Services (D)
Moti's Market (D)
Mt. Jezreel Baptist Church Food Bank (R)
My Thyme Catering (D)
New Creation Church (R)
Nations United Baptist Church (R)
Nothing Bundt Cakes (D)
Oak Chapel United Methodist Church (R)
Oak Grove A.M.E. Zion Church (R)
O'Donnells Market (D)
Olney Farmers Market (D)
One Acre Farm (D)
Opening New Doors Foundation Inc. (R)
Pacci's Pizzeria (D)
Panera Bread (D)
Parkway Eatery (D)
People Encouraging People (R)
PLNT Burger (D)
Plow and Stars Farm (D)
Potomac Village Farmers Market (D)
Project Access (R)
Rainbow Community Development Center (D,R)
Radisson Rockville Hotel (D)
Rainbow Place Shelter (R)
Rare Opportunity Farm (D)
Redland Middle School (D)
Red Wiggler Community Farm (D)
Relish Caterers (D)
Ricciuti's Brick Oven Pizza (D)
Ridgewells Catering (D)
Roots Market (D)
Rocklands Barbeque and Grilling Company (D)
Round House Theater (D)
Safeway (D)
Sage at the Landon School (D)
Sam's Club (D)
September House MAJ Inc (R)
Seneca Heights Apts. (MCCH) (R)
Seven Locks Baptist Church (R)
Shepherd's Table (D,R)
Shop Rite (D)
Silver Restaurant (D)
Silver Spring Christian Reformed Church (R)
Silver Spring United Methodist Church (D,R)
Smashburger (D)
Sodexo (D)
Southern Cross Bakery (D)
SoWhatElse (R)
St. Martin's Cloak – St. Jane Frances de Chantal Church (R)
St. Paul's United Methodist Church (R)
St. Peter's Church Just Lunch (R)
STEP (D,R) 
Sunflower Bakery (D)
SuperMax (D)
Takoma Park/Silver Spring Co-op (D)
Target (D)
Terrain Café Bethesda (D)
Trader Joe's (D)
Transforming Lives AJJ Inc. (R)
Tropical Fusion Caterers (D)
The Farm at Our House (D)
The Universities at Shady Grove (D)
VA Safe Haven Darnestown (R)
Walmart (D)
Washington Grove ES (D)
Waters Orchard (D) 
Watkins Mill House (R)
Wegmans (D)
Whole Foods Markets of Montgomery County (D)
Women Who Care Ministries (R)
WUMCO Help, Inc. (R)
Yad Yehuda (D,R)