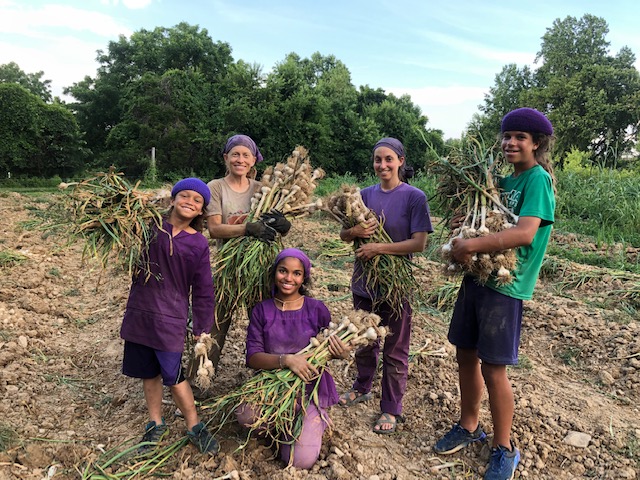 "The pandemic brought to light how fragile our [local food] supply system is," notes Nazirahk Amen, Purple Mountain Organics farmer, who sees how supporting our local food system is vital to our community's health and well-being. That's why he participates in the Montgomery County Farm to Food Bank (F2FB) program. The program — a collaboration between Manna Food Center, Montgomery County Food Council, and the Montgomery County Office of Agriculture — started in summer 2020, during the height of the COVID-19 pandemic, when national grocery store shelves were depleted and local farmers lost their contracts with shuttered restaurants and schools.
Thanks to generous funding provided by the county government and the Greater Washington Community Foundation, Manna purchases local farm products — including produce, meat, and eggs — and donates them to food assistance providers throughout Montgomery County. Farmers use Community Food Rescue's ChowMatch app to make weekly offers. Once offers are accepted, CFR's volunteer food runners pick up from the farm and deliver to CFR network member organizations.
The Farm to Food Bank program has grown tremendously since its inception. Last year, Manna purchased just over 18,000 pounds of local produce from 11 participating farmers. So far this year, Manna has purchased 60,000 lbs. of food from more than 30 participating farms and distributed freshly harvested food to 32 food assistance organizations in the CFR network.
"Pounds don't convey the full picture of the contributions of our local farms," adds Jenna Umbriac, Manna's Director of Programs and Policy. "In addition to fresh vegetables and fruit, these pounds include 332 dozen eggs to the Judy Center at Summit Hall Elementary School, 945 lbs. of beef and pork to Shepherd's Table and So What Else, and 250 bags of locally grown oats along with bunches and bunches of nutritious leafy greens."
Jenna says she is excited to see the tremendous growth in farmer engagement. In a recent survey, we asked farmers what this program means for their business. What we heard is how the program provides much more than the bottom line. Nazirahk sees the financial support of increasing local food production as a commitment to the community's health and well-being. "Locally grown, fresh food is the key to good health, which leads to a stronger community overall. Supporting local also reduces our environmental footprint and provides solid employment for county members," he says.
Farmer Tanya Spandhla of Passion to Seed Gardening talks about how the County Farm to Food Bank program supports the environment. "This program is the best of both worlds. Not only does the farmer get paid and the recipients get locally grown fresh produce, this program reduces farm produce waste that would have decayed or decomposed in the field."  
Tanya also reflects on the benefit to our food-insecure neighbors. "This program helps to bridge the gap in some communities that are not able to afford good quality fresh produce. It is my sincere hope and wish that this program becomes a blueprint in the county."
Jenna sums up how supporting and growing our local food system benefits our entire community. "By providing additional capacity to local farmers AND making the benefits of their locally grown products available to all Montgomery County residents," she says, "these investments will lead to a post-pandemic food system that is more resilient to future disasters, better for farmers, better for consumers, better for the environment and ensure food security for all in Montgomery County for years to come."