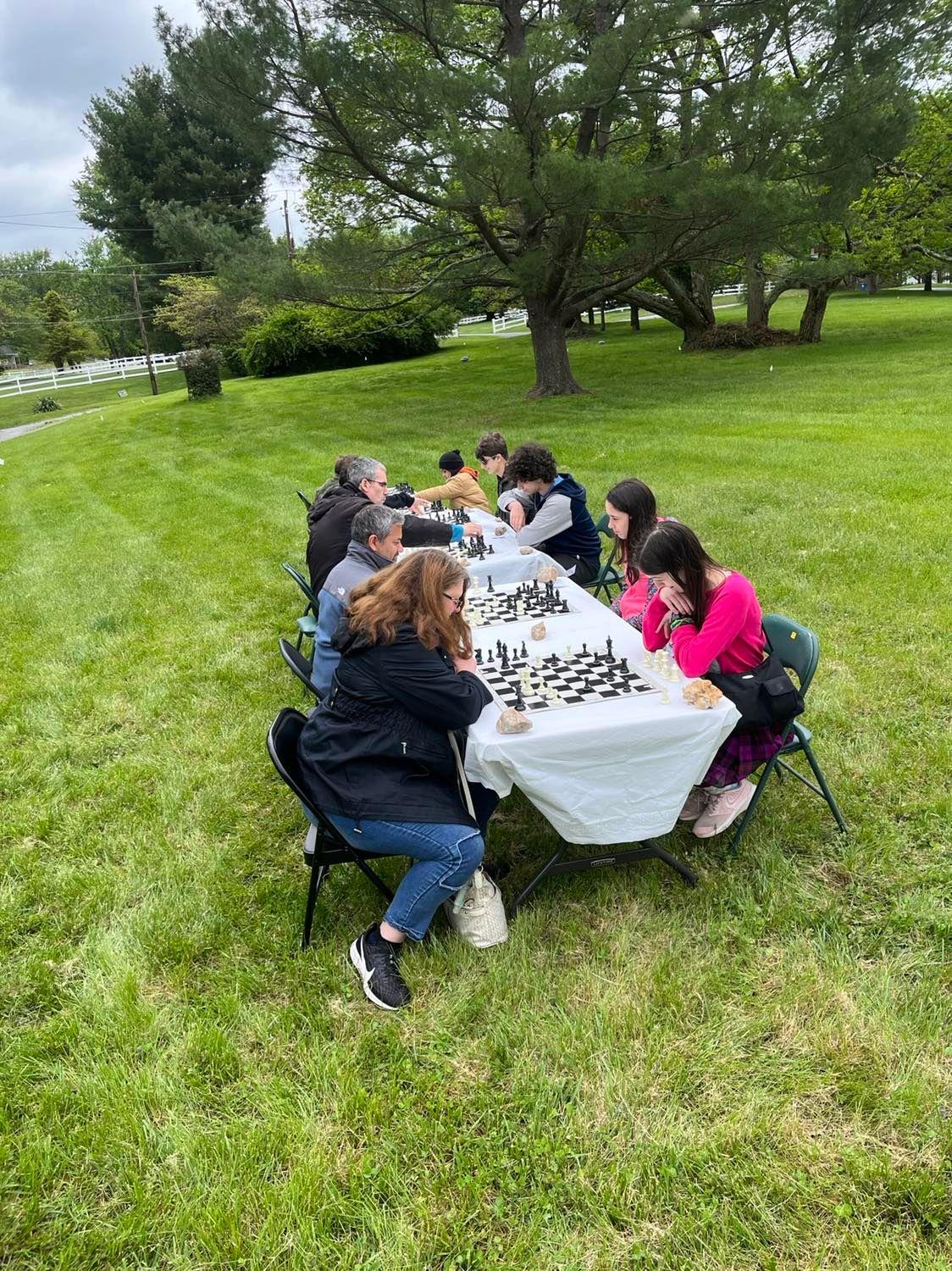 High-schooler Benjamin Shoykhet promoted the event on the US Chess Federation's website. "Join us for an afternoon of outdoor fun among the chickens, ducks, geese, and guinea fowl as we play chess to help reduce food insecurity in Montgomery County, Maryland." While playing chess on a farm may seem a bit strange, for this kid who lives on a farm with his socially minded family, it's just a way of raising money for a good cause.
Benjamin's mom, farmer Stephanie Berk of Tikkun Olam Farm in Potomac, shares, "Doing good deeds, helping our community, protecting our environment, education, and creativity are concepts that my husband and I have instilled in raising our four sons. We've made reducing food insecurity our family philanthropy." The family moved to their six-acre farm in North Potomac four days before Covid-19 shut everything down. Stephanie raises chickens and ducks and regularly donates 18 dozen eggs to Gaithersburg Help, through Community Food Rescue. She also raises fresh produce and sells it through the County Farm to Foodbank program that Manna administers.
While Benjamin is not very interested in farming, his parents challenged him to come up with his own way of helping the community. Since he loves playing chess, holding a monthly tournament to raise money for Manna Food Center seemed logical. And since the family is mindful of keeping everyone healthy during Covid-19, it was logical to have the tournament outdoors on the farm.
The event entry fee was at least $10 in cash or $10 worth of food. Benjamin explained the contest entry instructions: "Each month, we will use the 'foods most requested list' from a different culture, surveyed by the Montgomery County Food Council. All food and/or money collected will be donated directly to the local food pantry through the Community Food Rescue network. Prizes will be a dozen fresh eggs or produce from our farm for each of first, second, and third place players." For his first tournament, he chose foods desired by the Caribbean community, so requested foods were: carrots, collard greens, corn, curry powder, fish, fresh/dry black or red beans, peas, plantain, red peppers, and sweet potatoes.
The first tournament was held in May. Benjamin raised about $200 plus about $50 worth of food items. He was very pleased with the first of what he hopes will be regular chess tournaments, saying, "Our neighbors and friends were very generous, and all who participated had a great time!"