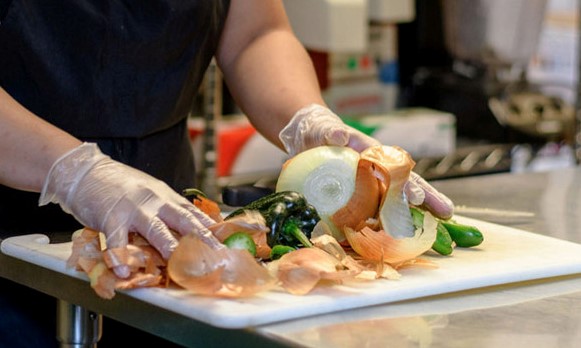 Our motto, feed more and waste less, sums up the mission of Community Food Rescue (CFR). In five years, we've rescued and distributed more than 6.5 million lbs. of food, the equivalent of distributing approximately 5.4 million meals to people who are food insecure. Not wasting food also reduces the waste stream. Our matching tool, ChowMatch, not only pairs food donated with our network of 79 food assistance organizations, but the software aggregates the amount of rescued food and even calculates the amount of greenhouse gases avoided. To date, CFR's rescued food has avoided putting 6,446 metric tons of carbon dioxide into the atmosphere. This is the equivalent of removing 1,380 vehicles from the road for a year.
This year, we've gone even greener by improving our operations in three ways. When we launched CFR, making sure that food was handled and transported following food safety guidelines was our first priority.
Volunteer food runners used a paper tracking form and recorded the time and temperature of temperature-sensitive foods upon pick up and drop off. Each party—the donor, recipient, and volunteer– signed off on the sheet, acknowledging that food had been handled and transported safely. Everyone's contact information was listed, and this tracking form was kept on file with the food assistance organization, just in case there was ever a problem with the donated food. Fortunately, there has never been a problem.
In keeping with Montgomery County's reduction in waste, we've eliminated the paper form. This tracking function is now automated within ChowMatch. After a food run, donors, recipients and volunteers can provide this information at their computer or by using the ChowMatch mobile app to record time and temperature of food. Volunteer Food Runner, Steve L., tried out the ChowMatch feature and reports that, "it is a real time-saver to complete the tracking electronically. And saving the paper is a worthwhile improvement." ChowMatch users can also update the amount of food actually donated and rate and comment about their experience of the food run. This helps us continually improve our operations as needed.
Second, our CFR Cooks! program, which cooks recovered food into prepared meals for the Montgomery County Coalition for the Homeless (MCCH), recently replaced disposable aluminum pans with reusable stainless-steel pans and lids. Making 200 meals a month meant that we used about 75 aluminum pans that were too flimsy to reuse. Operationally, thanks to our partnership with MCCH, we worked out the logistics of getting the pans and lids washed and returned to the kitchen in time for the next cooking session.
Third, our CFR Cooks! program is now zero waste. Not only are we using fresh produce that may be bruised, wilted or misshapen and is best eaten cooked rather than fresh, we compost all food scraps. Thanks to our partnership with Compost Crew, all peels, rinds, bones, and other inedible food used in cooking is picked up once a week and composted into a soil amendment.
Now we are proud to relay that with CFR, together we can feed more and waste less—and do it greener!