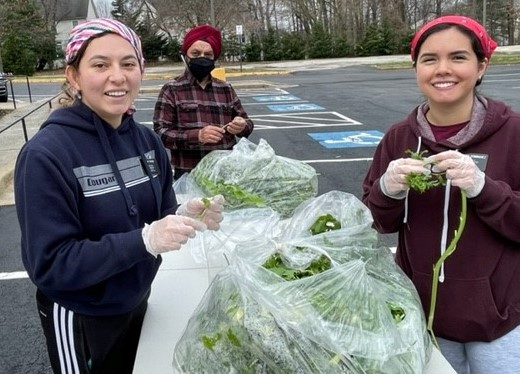 Winter arugula retails for $12 per pound, but the crop could have been a total loss for One Acre Farm, located in Dickerson, MD. Fortunately, this story ends well, and the prized spicy, leafy green ended up on dinner plates rather than in the compost pile, thanks to two Community Food Rescue (CFR) network members.
Local farmers extend our region's growing season by growing cool weather crops in green houses and high tunnels to protect plants from mid-Atlantic winters. Crops such as arugula and other plants in the brassica family, like kale, cabbage, and Brussel sprouts, thrive in these protective growing environments.
However, things don't always go according to plan. "We're experiencing extreme temperature fluctuations more and more in our region," explained Charlotte Henderson of One Acre Farm. "Temperatures inside high tunnels can get too warm and stress these cold-loving vegetables, causing them to prematurely start flowering—called 'bolting'," she said.
In mid-March, Charlotte found the farm's crop of arugula had bolted, and while the leaves were still delicious, they would now have to be stripped from the thick central stalks, a very labor-intensive process.  The time and labor required did not make sense economically. "That is why working with organizations like Community Food Rescue is so important. CFR and our farm worked together to make use of this crop," Charlotte explained.
CFR matched this crop with the Guru Gobind Singh Foundation (GGSF), a Sikh Spiritual Center in Rockville, MD. Through their Gudwara (Sikh Temple), volunteers prepare cooked-from-scratch vegetarian meals and distribute them, along with bags of groceries, for free to all who need them. The Temple organizes a drive-by distribution for 500-700 people each Sunday. GGSF, which joined the CFR network in 2020, also generously provides 80 meals a week to two CFR network members–the Montgomery County Coalition for the Homeless men's shelter and So What Else. Meals are transported by two CFR volunteer food runners.
On a cool, sunny March day, GGSF volunteer Aman Shergill assembled eight volunteers for the task. CFR volunteer food runner, Alan, delivered One Acre Farm's 15 large bags of arugula. In two hours, GGSF volunteers stripped the leaves from half of the stalks and packed 65 bags of arugula leaves for Sunday's grocery distribution. The remainder was used by the kitchen and made into spaghetti sauce.
"It certainly was labor intensive, but very therapeutic for us all," explained Aman about their experience. "We embraced our time together out in the sun and focused on the task in hand, whilst listening to Mother Nature's music, aka, birds singing!" she said.
 "Instead of the arugula being dumped in the compost pile, the arugula was harvested and passed along to an organization that had the capacity to process the crop into a fresh, local food that will feed community members," shared Charlotte of One Acre Farms. She will be thrilled to know that 350 people benefited from her good intentions and donation.