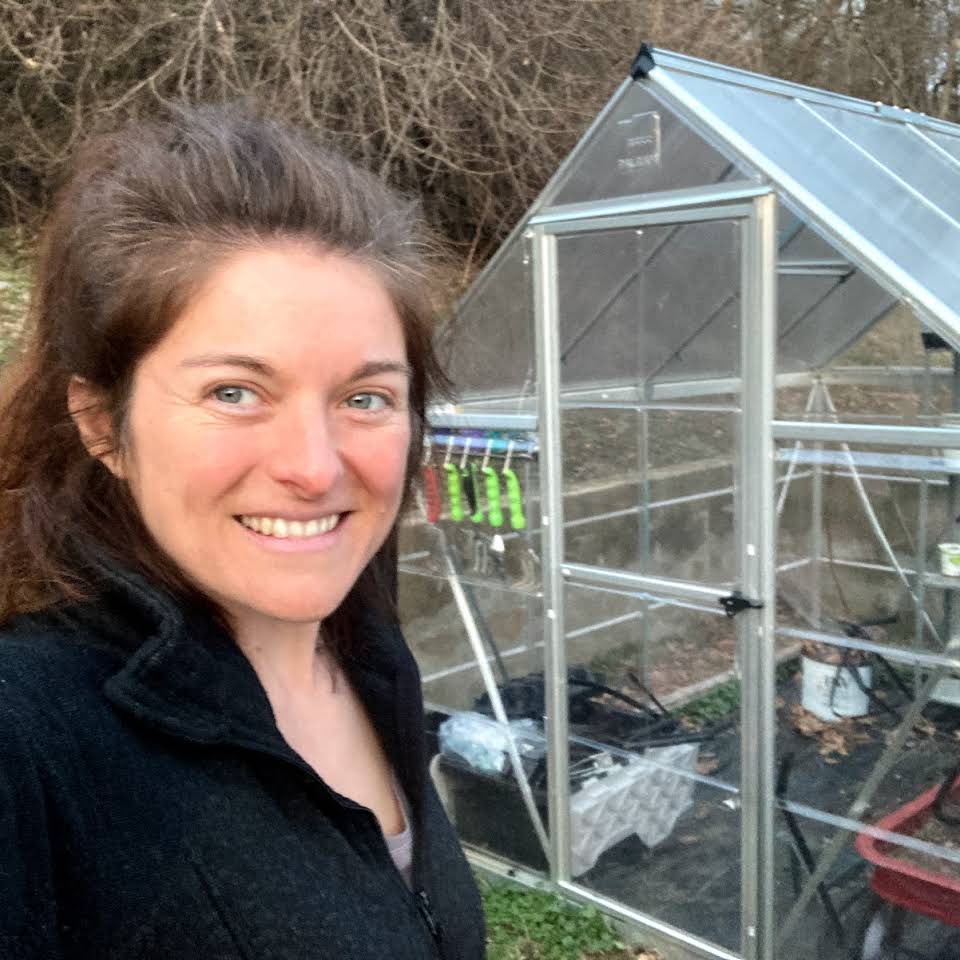 The Montgomery County Farm to Food Bank program buys local, fresh, and nutritious produce, meat and eggs for our neighbors who experience hunger. Thanks to a grant from Montgomery County and the Greater Washington Community Foundation, the program provides a much-needed financial boost to local farmers, especially in the wake of COVID-19. Of the 23 dedicated farmers who have joined the Farm to Food Bank program this year, meet three women farmers and hear what growing food for our community means to them.
Beauty Blooms Farm, Barnesville, MD
Nia Nyamweya, Farmer
Nia Nyamweya's family has a rich history of working the land. Her father was a farmer in Kenya and now owns a landscape business and her grandparents own a nursery in Virginia. Nia is in her first year of farming while enrolled in Future Harvest's Beginning Farmer Training Program. The program offers holistic training that combines classroom and hands-on learning, with flexibility to apprentice with an experienced farmer and manage her own operation at the same time. She's currently stewarding a 1/8-acre paddock in Barnesville, Maryland, borrowed from a landowner who was matched with her through the Montgomery Countryside Alliance's Land Link program. Their match was based on their shared values of environmental stewardship and low-till methods, as well as sharing food with the local community. Last year, Nia received a County Farm to Food Bank Capacity Building Grant for start-up infrastructure and materials to extend her growing season.
In addition to familiar summer crops, Nia is also growing West African crops such as Egusi melon and Kebarika bush bean that reflect her cultural heritage.  "I am excited to grow 900 lbs. of locally grown crops this season, including African heritage crops. I believe culturally relevant, locally grown, nutritious food is a right of Montgomery County residents living at the sharpest intersections of race, class and gender oppression, and that their voices and lived experiences are centered in the solution to improve the quality of their lives. My hope is that locally grown food produced and shared with the community is a celebration of cultural heritage."
Fresh Mama Farms, Dickerson, MD
Lorien E. MacAuley, PhD, Farmer
In her first year of farming in Montgomery County, farmer and single mom Lorien E. MacAuley, PhD, describes her business as: "Mama Owned; Mama Operated; Mama Loved." Her goal is to grow healthy easy-to-prepare greens and herbs on her five-acre farm in Barnesville, Maryland. She uses beyond-organic methods. She grows the whole salad bowl including lettuce, tomatoes, peppers, and herbs and sells in the DC area. She's also interested in growing crops for which the County Farm to Food Bank has an unmet demand.
Lorien joined the program in May and has already sold 50 lbs. of fresh greens that were then donated to Rainbow Community Development Center and Western Upper Montgomery County (WUMCO) Help. She says that it is especially helpful to her, as a new farmer, to have a predictable sale of produce each week. And she loves knowing that her food is going to food assistance agencies. "Each leaf of lettuce I pick, I know it is going to someone who could really use it, and someone who likely wouldn't be able to afford a bag of fresh organic spring mix at the grocery store," she explains.
Tikkun Olam Farm, Potomac, MD
Stephanie Berk, Farmer
Doing good deeds, helping our community, protecting our environment, education, and creativity are concepts that Stephanie Berk says she and her husband have instilled in raising their four sons. In fact, they have made reducing food insecurity their family philanthropy. Four days before Covid-19 shut down the world, the family moved to their six-acre farm in North Potomac.  Over the past 15 months, they built two chicken coops and runs, a duck house, and a goose house. They planted a large veggie garden, an herb garden, berry bowl, and small orchard. 
Stephanie currently donates 18 cartons of chicken and duck eggs each month to Gaithersburg HELP through Community Food Rescue. They also sell eggs and produce in their local community and she also plans to sell her vegetables and eggs through the County Farm to Food Bank program.
In addition to the profit-making farm, Stephanie started a non-profit organization that focuses on educating others about regenerative agriculture and how to use it to help those who experience hunger. "We want to set up an agricultural center that provides plots for people to farm, agricultural classes, seed swaps, a coffee/smoothie/organic veggie shop, and ways that they can help reduce food insecurity."
"This pandemic has shown all of us that the more we can grow locally, the more we can provide to others in need, so that they can refocus on their contributions to the community, instead of having to worry about where their next meals are coming from".
A long-term benefit of the County Farm to Food Bank program, especially for beginning farmers, is building relationships with food assistance providers while contributing to the local food economy in Montgomery County. This effort is a win-win-win for local farmers, food assistance organizations that seek fresh produce and proteins, and for the people they serve.  We will highlight more amazing farmers participating in Farm to Food Bank in future blog posts.