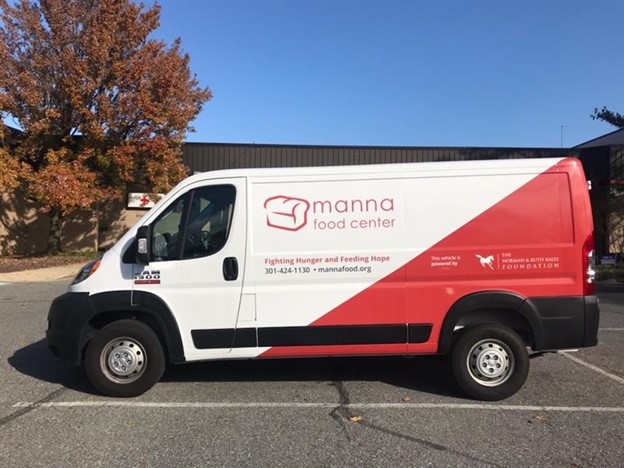 What was born out of necessity in the early days of COVID-19 has proved to be a lifeline for some of Manna Food Center's most vulnerable participants. "We had been considering for awhile whether it was possible to do home deliveries for people who were unable to pick up food at one of our distribution sites, but COVID-19 made this an essential service," explained Jackie DeCarlo, CEO of Manna Food Center. With a quick pivot, a few modifications to our ChowMatch software, and an overwhelming response to our call for more volunteer food runners, Manna's Community Food Rescue (CFR) program started home deliveries on March 31st. Now after nine months and more than 3,000 home deliveries, CFR will turn the job over to Manna's Logistics team, starting January 4, 2021.
Community Food Rescue was initially the logical choice for home delivery because of its two key assets—namely its robust corps of volunteer food runners and its ChowMatch software. CFR uses ChowMatch to pair sources of recovered food with its network of 75 food assistance organizations. Delivering Food for Families boxes was a natural extension. "We are very proud of this distribution option for Manna participants and very grateful to all the volunteer CFR food runners who made the deliveries, said Cheryl Kollin, CFR Program Director. "But, for the long run, Manna's Logistics team, charged with receiving and distributing Manna's millions of lbs. of food each year, is the most efficient and sustainable choice to make home deliveries."
There are many advantages to having Manna staff, with its refrigerated van, deliver Food for Families. First, without volunteers and the need for ChowMatch, scheduling home deliveries will be simpler, take fewer staff and require less data entry. Manna's bilingual call center will contact participants to confirm delivery, overcoming language barriers that have sometimes stymied communication between volunteers and participants.  Second, any food not delivered can be kept at proper temperature in their refrigerated delivery van and returned to Manna's warehouse for reuse. Third and perhaps most significantly, CFR will return to its core focus of recovering and distributing rescued food—food that would otherwise go to waste—to CFR network food assistance agencies.
"We are excited to return to our core mission and tackle projects in our work plan that we've not yet been able to accomplish during the COVID home delivery pivot," said Cheryl. In 2021, CFR will ramp up matching culturally appropriate food donors with organizations seeking these types of food. CFR will also support Manna's administration of Montgomery County's Farm to Foodbank program, which pays local farmers for their produce and meat and directs it to food assistance organizations. "Of course, we will continue to rely on CFR volunteer food runners for our core program," Cheryl added. "We won't have as many food runs on a given day, but our program cannot exist without food runners. We look forward to having volunteers deliver food to food assistance agencies."
We want to extend our gratitude to all the CFR volunteers who stepped up during the global pandemic to help deliver food to our most vulnerable neighbors. You were the key link to making home deliveries possible. Thank you!