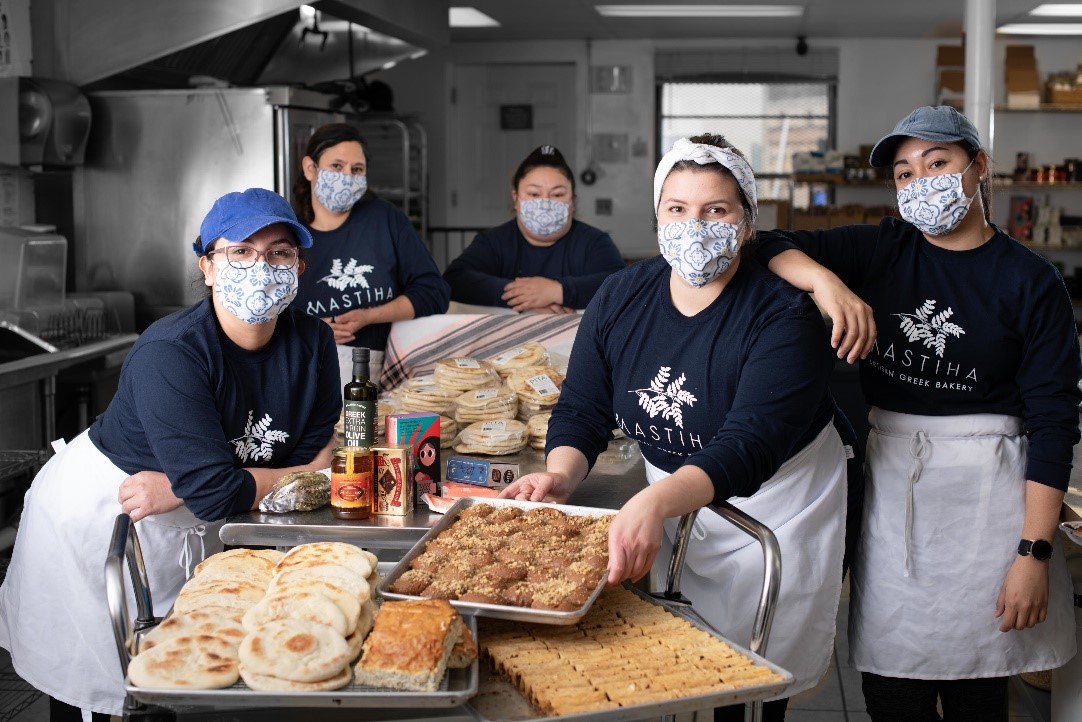 In the past year of the global pandemic, we have learned a lot about COVID-19 and about how quickly and dramatically our world can change. Sadly, some food businesses have had to close permanently. Others have found ways to stay open, keep their workers employed, and keep their customers and workers safe. Two local small businesses, Coop's Soups and MASTIHA  Greek Bakery, have gone a step further. They each solicit monetary contributions so that they can make and donate their nourishing and delicious food to Community Food Rescue (CFR) network's food assistance organizations. 
Coop's Soups 
Last April, just a month into the pandemic, Cristin Cooper, co-owner and chef of Coop's Soups, began donating 25 jars of home-made minestrone soup every Friday. CFR food runners delivered these donations to Montgomery Station (formerly, Family Services Inc.), which provides healthy meals to clients seeking mental health services. "Because of COVID-19, we increased our meals production to serve 155 clients 5,425 meals per week. Never in a million years did I think we would be sending out this many meals per week for clients!" said Teresa Johnson, Kitchen Coordinator, at Montgomery Station. Teresa shared client responses after enjoying the weekly soups, including, 'MMMM good' and 'Thank you for caring about us.'
Cristin owns and operates Coop's Soup along with her husband, Brandon. They sell their soup through local businesses and via a "Soupscription" during the winter. Coop's Soups is at the Olney Farmer's Market spring through fall. "I run my business so closely to my core values, one of which is being part of the solution to a need I see in my local community," Cristin says. When she saw how people became food-insecure during COVID-19–Manna had a 40% increase in participants– she provided soup as a nourishing way to help.
Tricia Resnick, who buys Coop's Soup regularly at Common Root Farm in Derwood, said, "We recently discovered Coops Soups (delicious) and I visited the website to see if they took the jars and lids back (they do). While poking around I saw that they have been donating soup and accepted donations to offset the costs, so I happily donated 12 jars of soup." Since April 2020, Coop's Soup has donated soup to 575 clients at Montgomery Station.
MASTIHA Artisan Greek Bakery
Katerina Georgallas's Greek heritage stretches back to her maternal great-grandparents, who grew up on the small Greek Island of Chios. Family recipes and the bakery business were handed down from grandparents to Aunt Sylvia, and now to Katerina, who opened MASTIHA Artisan Greek Bakery in 2011, offering authentic Greek bread and pastries. "During these unprecedented times, we feel it is important to support our food insecure communities, and thus have organized Pita for the People to make our fresh bread available to those in need," she explained.
Their giving model is simple. Customers donate funds on the MASTIHA Bakery website. Each week or month, MASTIHA workers bake bread based on the amount that has been donated, and CFR food runners transport the pita to Manna Food Center's Gaithersburg warehouse. To date MASTIHA has donated about 6,000 pitas to Manna, which then distributes the bread to its participants. "We are interested in partnering with more food assistance programs in a rising tide effort to make more fresh bread accessible, and ultimately create more job opportunities here at MASTIHA," says Katerina.  
Coop's Soup and  MASTIHA's Pita for the People are just two examples of how local food businesses have found innovative ways during COVID-19, thanks to generous customer donations, to support their workers and nourish our community.