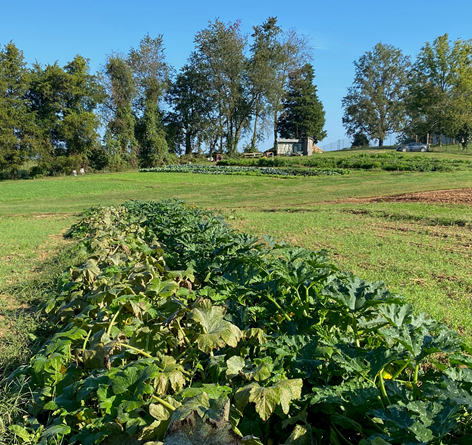 By Cheryl Kollin, CFR program director
I was scanning the Washington Post last fall and read with great interest the article, "Extreme weather and climate this summer challenged Mid-Atlantic farmers". The story featured Tom Farquhar of Sandy Spring Gardens, one of Montgomery County's Farm to Food Bank farmers. I asked Tom how the article came about. He told me, "I contacted the Post after getting weary of reading about the challenge of climate change for farmers in China. I wondered, what about the challenges we face, right here in the DMV region?"
Just as we were completing a second season of helping farmers weather Covid-19 with the Montgomery County Farm to Food Bank program­, the Post article raised my awareness of the additional challenges farmers face due to climate change.
Montgomery County Farm to Food Bank
When the global pandemic began in early 2020, farmers had already planted their season's crops, expecting to sell them through their typical markets, including restaurants and schools. However, Covid-19 abruptly closed those local sales channels. At the same time, the pandemic increased food insecurity, as more people lost their jobs and many got sick. Lives were upended. Since Covid-19 hit our community, food insecurity in Montgomery County has increased by 50% with over 100,000 residents receiving regular food assistance. By June 2020, 86% of the county's food assistance providers reported they did not have sufficient supplies of fresh produce for their clients.
The Montgomery County Farm to Food Bank program aimed to help bridge the gap. The program was created in 2020 to support a sustained local food supply, strengthen our local food economy, and provide more nutritious and culturally diverse fresh produce to residents who are experiencing hunger.
The program is a partnership between the Montgomery County Food Security Task Force, the Department of Health and Human Services, Manna Food Center, the Montgomery County Food Council, the Montgomery County Office of Agriculture, and the Greater Washington Community Foundation. Under Farm to Food Bank, Manna Food Center purchases fresh produce, eggs, meat, and other products from local farms. Since 2020, the program has purchased 112,235 lbs., and Manna's Community Food Rescue (CFR) program has distributed this food to more than 30 CFR network food assistance providers.
In addition to direct purchase of local farm products, the program has funded capacity-building grants to help farmers produce more food. In 2020, 22 farms were awarded $236,800 in grants to build season extension infrastructure and purchase other equipment and cold storage. Additional grants were awarded in 2021.
Farmers Face Climate Change Challenges
In the Washington Post article, Tom Farquhar and other mid-Atlantic farmers describe the additional challenges they face in light of climate change. Tom explains, "We are fortunate that we are not seeing devastating climate impacts, but rather unexpected extremes of temperature, humidity, rainfall, and wind that may harm one crop but give advantage to another." 
For example, torrential rains, known as "gully-washers," erode nutrient-rich topsoil.  The deluge of rain has even washed away soil-holding grasses, just as they are germinating to protect the soil. Also, warmer nighttime temperatures give rise to fungal diseases that can damage or kill crops. Tom explains how unexpected temperature shifts affect farming practices, "We pulled turnips within a cover-crop planting of oats and peas on December 22. This cover-crop mix is starting to die and is expected to die completely by spring, providing a grown-in-place mulch for spring-planted crops. But if the winter is unusually warm, the cover-crop survives and grows again in spring. This becomes a nuisance weed that requires additional management before we can plant early spring vegetables."
After reading the climate change article, I'm even more in awe of farmers, given all that they must do to put food on our plates and in our bellies.
The Farm to Food Bank program,  thanks to generous funding from Montgomery County and the Greater Washington Community Foundation, is supporting farmers through the global pandemic and climate change. Right now local funding for the nascent program is on a year-to-year basis; we hope funding can become permanent. Building critical resilience into our local food supply chain to weather these and future emergencies ultimately helps us all.