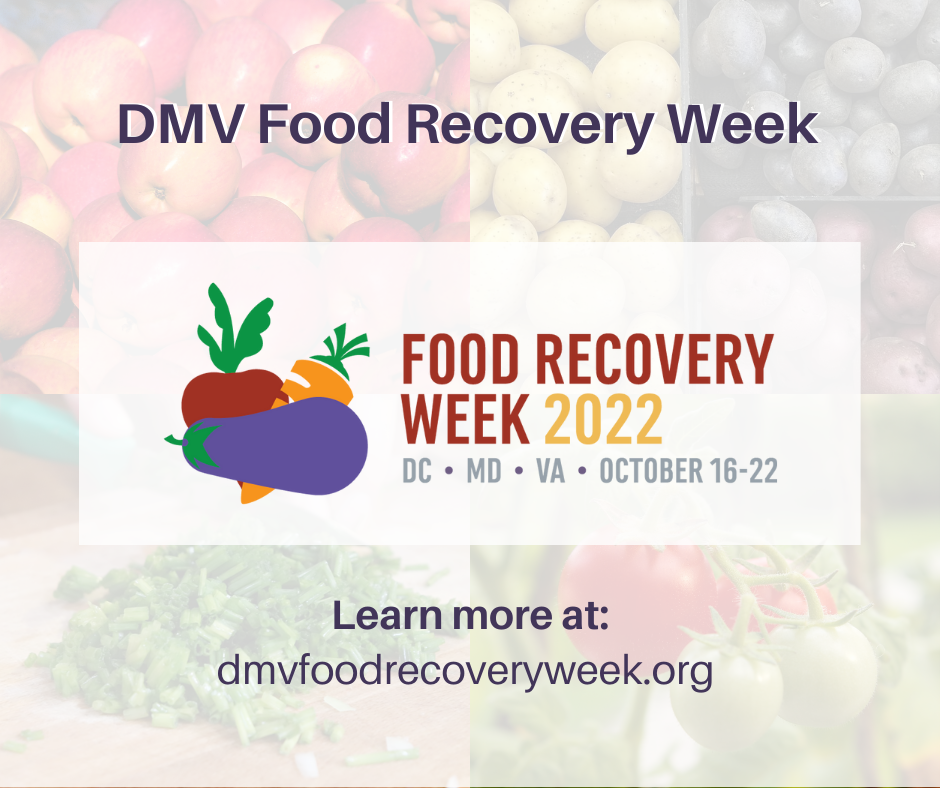 Manna Food Center's Community Food Rescue (CFR) and the DC Food Recovery Working Group (DCFRWG) welcome two new co-hosts–the Montgomery County Food Council and Prince George's County Food Equity Council–for this year's DMV Food Recovery Week.
The global pandemic has revealed how much we need a more resilient food system – one that sustains the earth and provides sufficient, nutritious food for all who need it. The week's engaging and enlightening free events that will aim to help individuals and our community become more resilient. JOIN US for in-person and virtual events to learn easy things you can do at home – and ways to support community efforts – to reduce food waste and increase food security for all of us. 
Our goals for this event are to:
Highlight the connections between food waste and food insecurity, and engage the community in helping to reduce these twin problems.
Spotlight food businesses that participate in the region's food recovery effort, and spur others to join.
Reframe food waste reduction in the economic aftermath of a global pandemic.
Teach ways to make the best use of available food during these tough economic times and prevent food waste at home, for example by preserving food, cooking nose to tail, and cooking with recovered food.
This year's in person events include:
Koiner Farm Tour—Visit an urban farm near downtown Silver Spring, MD, to learn about closed-loop food systems and meet and greet others working to reduce food waste.
H Street Food Waste Innovation Restaurant Tour–Learn about four restaurants' projects funded by DC's Department of Small & Local Business Development.
This year's virtual events include:
A primer about food waste and a national roadmap for achieving a 50% reduction by 2030.
Ideas on how to prevent food waste at home and get started composting (in English and Spanish).
Presentations on current policies and innovative proposals to prevent and reduce food waste in PG and Montgomery counties, MD; Fairfax, VA; and Washington DC.
A look at how public schools and US embassies are leading the way in showing how large institutions can reduce food waste.
Plus get inspired by livestreaming the No Waste, Big Taste Cooking Contest to see how professional chefs whip up creative, delicious food and beverages with recovered food.
For a complete list of events and how to sign up to attend, both in-person and virtually, please visit: https://dmvfoodrecoveryweek.org/.