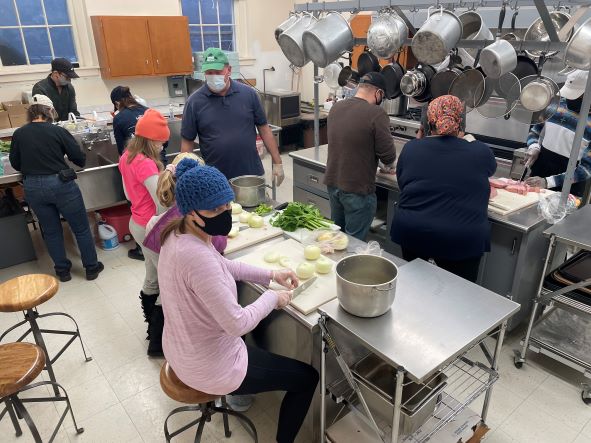 Chef Cristin Cooper, along with her co-owner husband, Brandon of Coop's Soups, had an offer they couldn't refuse. Two loyal customers wanted to do something special this holiday season: help to make and donate delicious Ham and Bean soup. John bought 20 fresh-cooked hams from Hahn's of Westminster, and Larry offered his own recipe and purchased all the other soup-making ingredients.
The gesture is very aligned with Coop's Soups mission, to sell delicious, locally made soup  while also providing twice a month Soup Church, inviting everyone in the Community to enjoy a meal and friendly company. Cristin is a Methodist Pastor and started Coop's Soups as a way to support her interest in building community. She uses the proceeds from the soup sales to make Soup Church possible. Early in the Covid pandemic, Coop's Soups raised funds through their customer base and provided 25 quarts of soup weekly to CFR network member organizations.
Just in time for this year's holiday season, Cristin and Brandon invited members of Soup Church to come to Salem United Methodist Church in Brookville to prepare the Ham and Bean Soup for donation.  Their pitch for volunteers stated, "There are carrots to peel, onions to slice, celery to chop, and merriment to be had! No cooking experience is required! After the soup is finished cooking, we will sit down to a bowl of the soup [or a vegan soup option] we just made. Join us in spreading comfort one spoonful at a time this holiday season!"
Cristin, Brandon, and volunteers made 11 gallons of soup that were delivered, along with several whole cooked hams, to Community Food Rescue's network member Montgomery Station, a mental health recovery program that provides individualized rehabilitation services for clients who are preparing to live independently.  
Coop's Soups' tagline reflects Cristin and Brandon's ultimate goal, whether gathering for Soup Church or making and donating soup to CFR's members, to provide "Belonging in a Bowl."