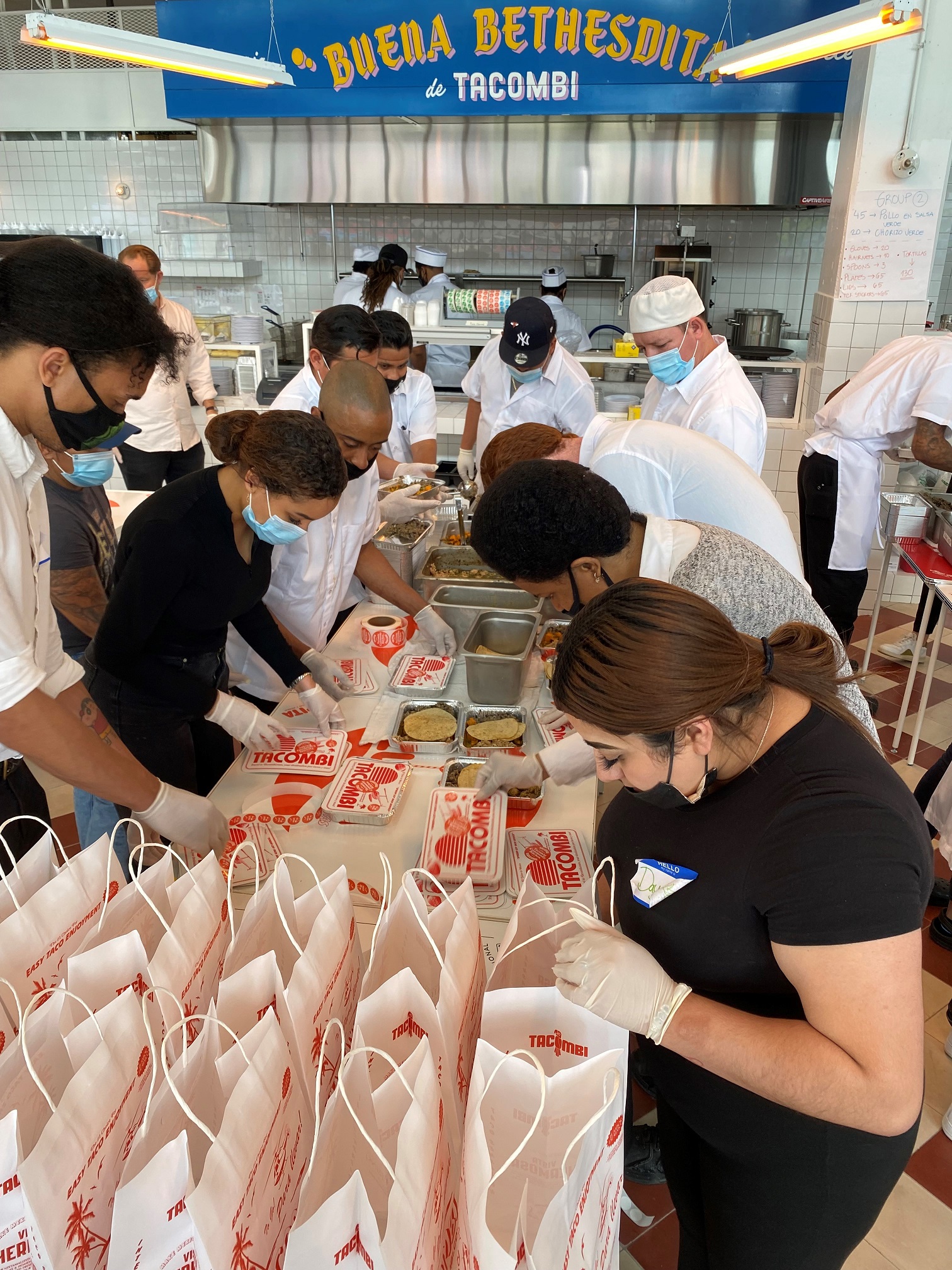 Tacombi, a new fast-casual Mexican restaurant in downtown Bethesda, serves up much more than delicious food. Thanks to a visionary owner, the Tacombi Foundation is committed to donating 250 freshly prepared meals each week, the same food and packaging as sold from their menu, to Latinx communities experiencing food insecurity.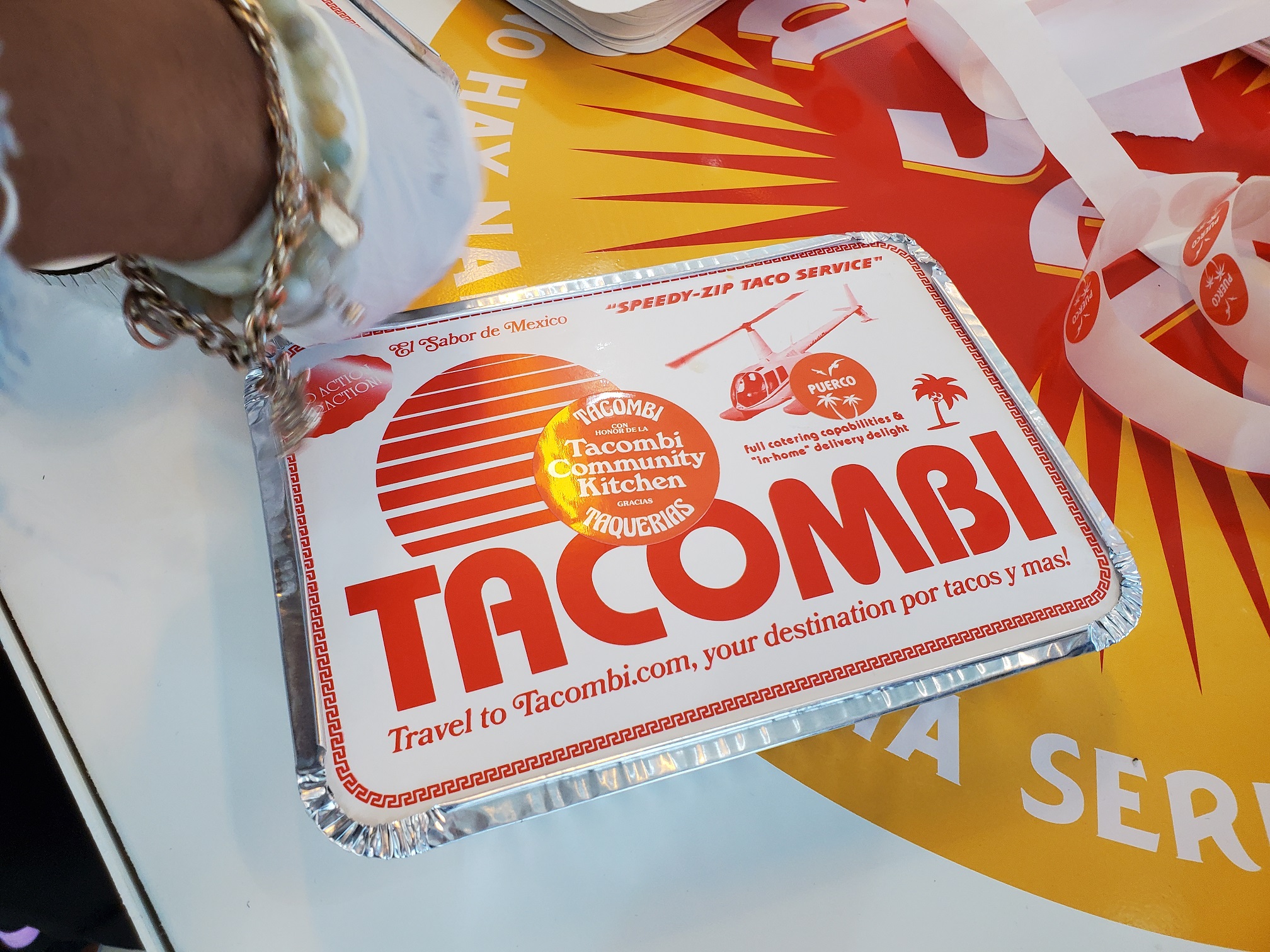 "We wanted to match this generous food donation with Community Food Rescue (CFR) network member organizations whose clients seek prepared food because they are unable to cook," explains Jenna Umbriac, Manna Food Center's Director of Programs.
"We selected two CFR network member organizations in Silver Spring: St. Luke Church, which serves residents living at University Landing Apartments, and Mishkan HaShofar, which collects and distributes food to several churches in Silver Spring. Both of these non-profit organizations serve a predominately Latinx community from El Salvador, Honduras, the Dominican Republic, Haiti and Mexico.
Their clients are either day laborers or work more than one job per day and may not be home when their kids come home from school. Both organizations offer after school programs, including English as a second language (ESOL), art, and tutoring.  Pastor Franklin Morales from St. Luke explains, "It's very important to keep kids off the streets by offering good programs and nourishing food."
Isabella Cardenas with the Tacombi Foundation explains, "The meals will be a combination of Taco Platos, essentially a deconstructed taco, filled with rice, beans, and a protein such as chicken, pork or vegetables and two in-house made tortillas. The other meal is Tacombi's Burrita, a 'grab-and-go' burrito with similar ingredients but wrapped in a flour tortilla for easy transport. The food will be delivered chilled and can be eaten cold or heated."
The third donation recipient is the Montgomery Coalition for the Homeless (MCCH) Men's shelter in Rockville.  Their new and expanded 200 bed facility relies on prepared food donations from the community, because they only have warming facilities in their kitchen. Lynn Rose, MCCH Community Engagement Specialist, related how their onsite manager received the news of this weekly food donation. "When Wayne learned about receiving these weekly meals, he broke into a HUGE and relieved smile. He and I had been talking of options for additional meal support at our new site. A regular donation from Tacombi restaurant is so much better than we could have dreamed of!"
Just prior to opening day in May, CFR staff visited Tacombi Restaurant's staff training and shared how their generous donation of 250 meals each week will help clients. The Tacombi staff were very moved to hear how their meals will serve the community. One employee jumped out of her seat and said that she attends Mishkan Hashofar. She was so excited to know that the meals she makes will be delivered there.
Even though these meals are not technically recovered food, CFR employs the same operational logistics to transport them each week. The three food run opportunities are posted in CFR's matching tool, ChowMatch, and volunteer food runners claim the food runs—picking up at Tacombi's loading dock and delivering to the three food assistance providers.  
Lynn shares the men's initial reaction to receiving Tacombi's Taco Platos every Tuesday, "It's like a restaurant comes to us; good food like this makes a bad day a lot better."  Lynn adds her perspective, "This is a tangible way a local business can join in our work to end homelessness."
Welcome to the community Tacombi! Thanks for your commitment to providing food to neighbors in need.