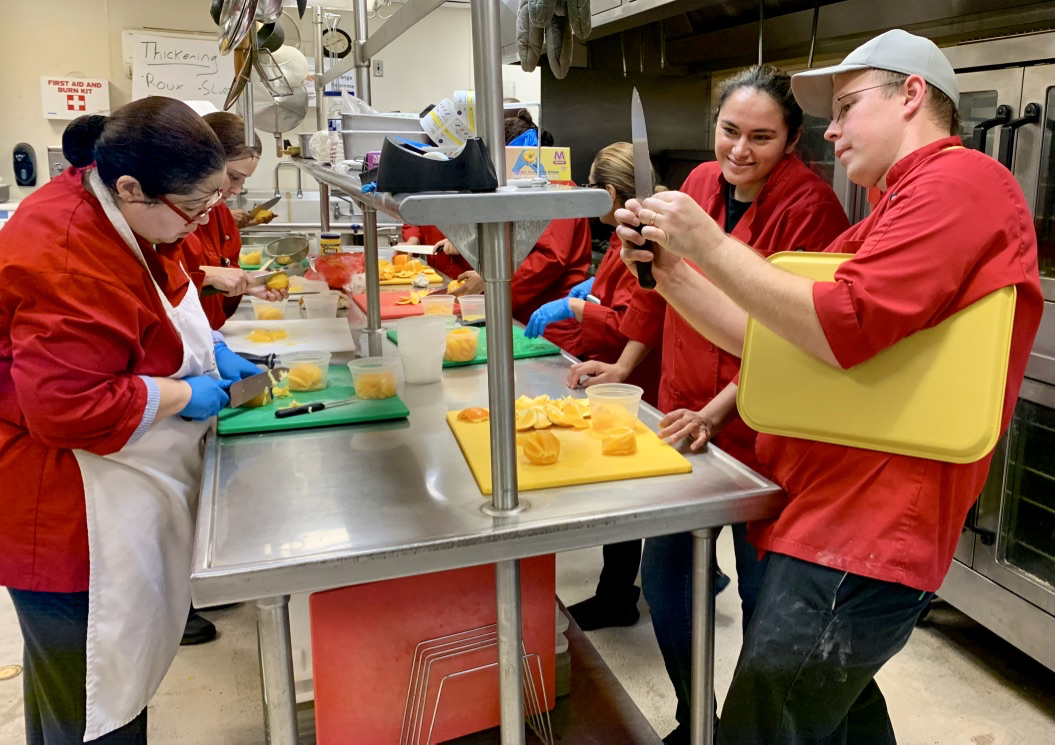 Last fall we met over lunch to get acquainted and by the time the check came, we had joined forces to solve our two organizations' needs. Amelia Kalant, Director of STEP, (Service Workers Training & Education Partnership), a small non-profit training program for cooks and other hospitality workers, needed a licensed commercial kitchen to train its students. A small program that trains primarily for unionized places like museum or university restaurants or cafeterias, STEP needs to be resource efficient: their problem was how to give their students experience cooking for 100 (or 1000) rather than ten customers at a time, without the program spending a lot on product, and wasting the food.
Manna Food Center's Community Food Rescue program launched the CFR Cooks! project to cook with recovered food two years ago. CFR Cooks! uses recovered food—including produce that is wilted, bruised or misshapen, along with meat and canned goods from Manna's warehouse. With the help of guest chefs and KindWorks' volunteers as assistant cooks, we transform these humble ingredients into delicious and nutritious meals. After each cooking session we deliver about 100 meals to CFR network member, Montgomery County Coalition for the Homeless (MCCH). Chefs enjoy the challenge of creating menus from what's available, KindWorks volunteers appreciate learning cooking techniques from professional chefs, and MCCH's residents love to dig into restaurant-quality meals.
While we've had fantastic guest chefs, including several from Marriott International and private caterers, it's hard to schedule busy chefs who have erratic schedules or must travel for work. Enter STEP. The program benefits both native English speakers and English Language Learners by providing them with the culinary skills, food safety certifications, and language and math knowledge, to help them find work in the food industry. STEP's February-March class was a collaboration with Catholic Charities of the Archdiocese of DC, and Washington English Center, with funding from the Office of the State Superintendent of Education (OSSE) in Washington DC. These organizations collaborated so that students could get the best possible education and supportive services, including case management and vocational counseling.
During STEP's recent six-week culinary training, Chef Scott Ulen led his eight students through three cooking sessions using recovered food from Manna's warehouse. In addition to learning standard culinary skills, students had the extra challenge of creating menus from whatever food was available at the Manna warehouse. A February menu included: Crispy Chicken Fingers with Cajun Remoulade; Lemon-Bacon Pasta Salad with Parmesan Cheese; Roasted Potatoes with Garlic and Rosemary; and, Caramelized Pears with Maple-Pecan Cookie Crumble. A March menu included: Hot and Sour Chicken Wings; Three-Melon Salad with Toasted Pepitas, Basil, White Balsamic, and Feta cheese; Spiced and Roasted Root Vegetables; and, Banana-Raisin Bread Pudding.
MCCH residents and staff at Cordell Place and Seneca Heights are extremely grateful for the delicious meals donated by STEP's culinary training program. "This food is so good I want to have it for my next meal too! I could never make food like this. It really helps me eat better and be healthier," were among the remarks of MCCH residents. Lynn Rose, MCCH Community Engagement Specialist, explains how our partnership benefits residents beyond enjoying a good meal. "When a Community Food Rescue volunteer delivers this food, our residents eat together and that creates community. This is so important for people who have experienced homelessness and couldn't trust others," says Rose.
STEP students receive the residents' appreciative comments and feel great about being able to contribute something to others while they learn. Rose makes sure to let STEP students know that, "your efforts met more than a food need. They also helped our residents know others care and value them!" Naturally, chefs want good feedback about their cooking. With our three-way partnership to make this possible, STEP students know that their meals nourish hearts as well as bodies.