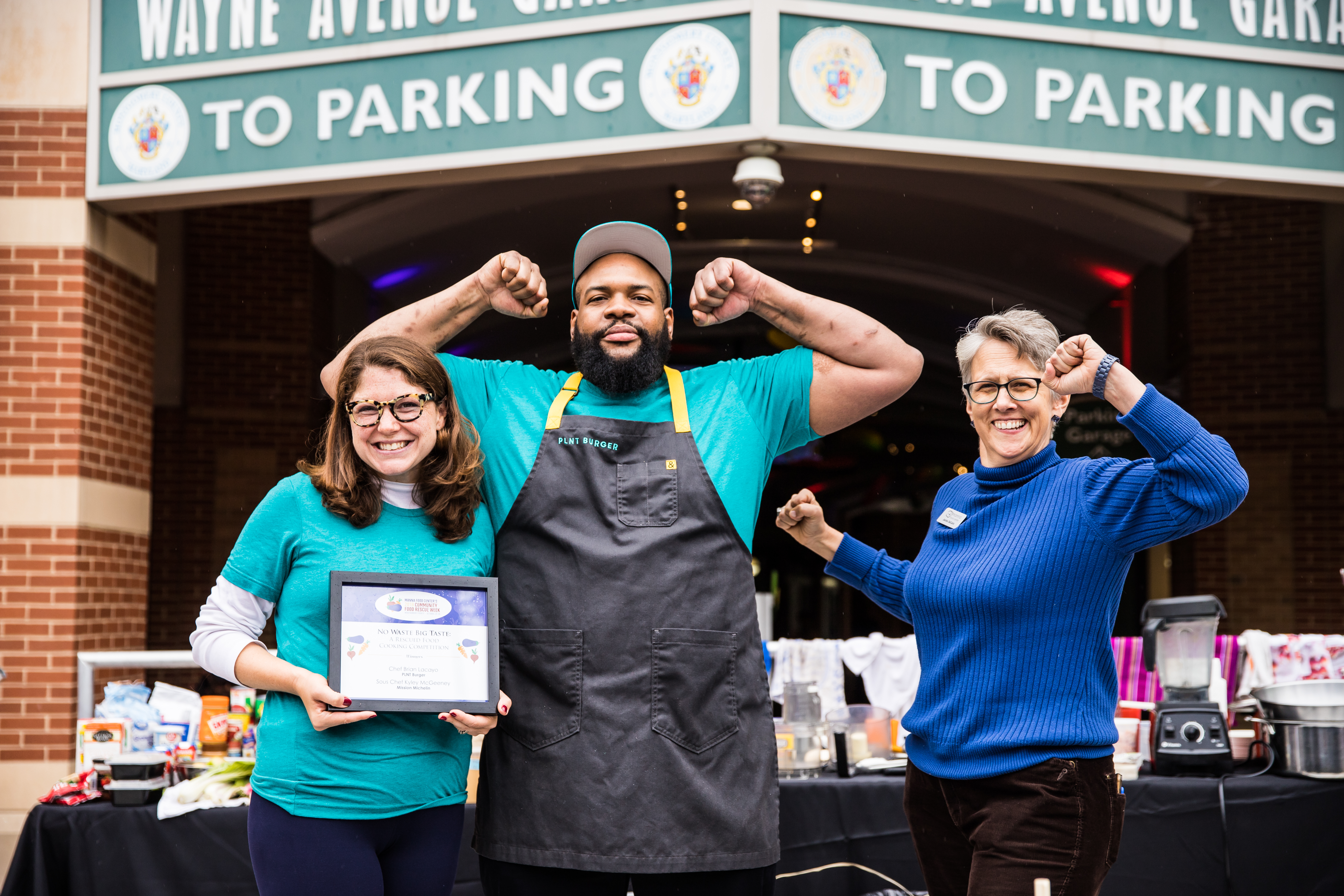 Local Chefs Turned 'Ugly' Produce into Delightful Dishes to Raise Awareness of Hunger and Food Waste in Montgomery County 
Photos from the event are available here. 
Silver Spring, Maryland — Hundreds of people gathered today to watch two teams of professional and amateur chefs compete in the second annual No Waste, Big Taste: A Rescued Food Cooking Competition. The competition, organized by Manna Food Center (Manna) and co-hosted by Downtown Silver Spring and FRESHFARM Market, was the final event of Montgomery County's second annual. Community Food Rescue Week. 
Chef Brian Lacayo representing PLNT Burger and sous chef Kyley McGeeney founder of the food blog Mission Michelin were named winners of the competition. Chef Jim Drost, director of culinary operations at Matchbox restaurants, and sous chef Linda Wang, foodie and director of Linda Wang Photography, came in a close second place. Each team competed with each creating two courses using mystery ingredients and 'ugly' produce including blue potatoes, kale, lemongrass, and salsa, that were set to be thrown away, if they had not been rescued. 
"It's fantastic, what these chefs were able to make – I was amazed to see how creatively they worked to transform 'unsellable' vegetables and other rescued food into such delicious meals," said Jackie DeCarlo, chief executive officer for Manna. "We want these events to be fun, but more importantly we want to spotlight the steps that any food businesses — from restaurants and caterers to grocers, corporate cafeterias and farmers — can take to address hunger and food waste in Montgomery County." 
As many as 60,000 Montgomery County residents experience food insecurity, but Manna's state-of-the-art Community Food Rescue app makes it easy for local food businesses to connect their surplus food to community members experiencing hunger. 
Both of the organizations, PLNT Burger and Matchbox Restaurants, that competed in the No Waste, Big Taste Cooking Competition are partners in the Community Food Rescue network. To date this network of businesses, volunteers, and hunger relief organizations has rescued and distributed more than 5 million pounds of food—the equivalent of 4.8 million meals. "We hope this weeks events inspire Montgomery County residents to action. 
"We are grateful for the generosity of the sponsors, organizations, and volunteers that made Community Food Rescue Week a success," DeCarlo added. 
The competition's judges – chef instructor at STEP, Scott Ulen, Marriott International's director of social impact, Niki Zoli, and the executive director of Shepherds Table, Manny Hidalgo – scored each course based on taste, presentation, and the amount of food waste generated. The winning two-course meal of Vegan Bean Salad with crispy beyond meat sausage, and "Timeless Chicken" featuring a Vietnamese kale and lemongrass-peanut sauce ultimately won the day, however, both teams wowed onlookers with their creativity. 
Throughout the second annual Community Food Rescue Week, members of the community were invited to tour an active farm, attend composting workshops, glean apples from a local orchard, cook with rescued food, and mingle with fellow food lovers and food advocates at a happy hour thanking Manna Food Center volunteers. 
Each year Manna organizes Community Food Rescue Week to inspire action and highlight ways the community can come together to continue to tackle food waste and hunger. Manna encourages food businesses and nonprofit food provider organizations to join the Community Food Rescue network and visit their website to learn more and sign up. 
### 
ABOUT MANNA FOOD CENTER: Manna Food Center is the designated food bank for Montgomery County, MD. For 35 years Manna has provided supplemental food assistance to food-insecure residents in Montgomery County. Manna is expanding its programs to reach 10,000 more neighbors in need across the county through the Food for All campaign. This includes a new choice market in East County and state of the art technology in our renovated warehouse. Visit www.mannafood.org for more information. 
ABOUT COMMUNITY FOOD RESCUE: The Community Food Rescue network, a program of Manna Food Center, is the coordinated food recovery network of Montgomery County, Maryland. This program utilizes innovative matching software to enhance the good work of businesses, individuals, and organizations that recover and distribute perfectly good food to people experiencing hunger. Our goal is to mobilize the entire Montgomery County community for collective impact in tackling food insecurity and food waste. Visit www.communityfoodrescue.org for more information.