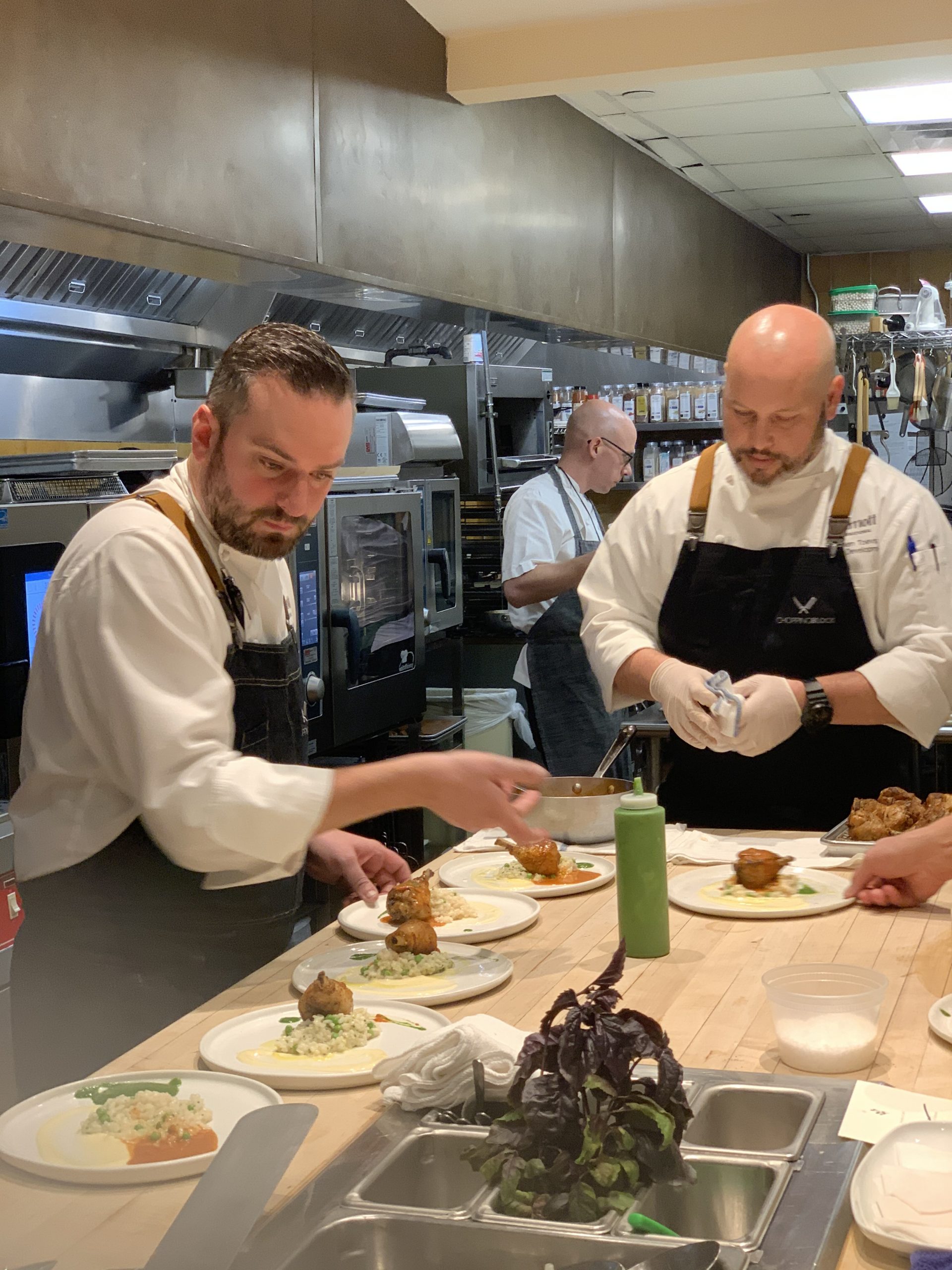 There's nothing like a good meal to impress the boss. For Marriott International's chefs, it's part of their job. Every three months the "Chopping Blocks", a team of test kitchen chefs, prepares a 6-course Tasting Panel for Mr. Marriott, the chairman, and the Board of Directors. Each course highlights food and beverages that are featured in their hotels internationally. This year, Chef Jen O'Brien added a new twist. Jen proposed that, "we highlight our partnership with Manna Food Center's Community Food Rescue program, by serving one mystery basket course made from rescued food."
The idea was part of Marriott International's major support for Community Food Rescue. In 2018 they helped launch CFR Cooks!, our cooking-with-recovered-food program. In the past two years, Marriott chefs have volunteered their time and talent to create restaurant-quality meals, teach and lead volunteer cooks from KindWorks, and together produce meals for about 100 people twice a month. The meals are donated to two residential shelters run by the Montgomery County Coalition for the Homeless (MCCH).
"The good food is coming again!"  a resident at MCCH's Seneca Heights site exclaimed as he eagerly awaited what the CFR Cooks! team prepared. Lynn Rose, MCCH's Community Engagement Specialist, explained the importance that these meals have in the residents' lives. "Our staff were so encouraged to be able to provide healthy and delicious food to both families and individuals, a daily challenge for many of those we serve. The meals are served in the community room or lobby.  Some residents sit and eat, others engage for a short time and take the food back to their room.  Many of our Cordell residents are still developing comfort being with others, so this is a great way to get some practice and establish some basic and healthy connections with their neighbors," Rose said.   
Back at the Marriott Test Kitchen, chefs busily prepared the multi-course lunch for the Taste Panel. Chef Jen had picked up rescued meat, produce, and pantry items from the Manna warehouse the day before. The chefs turned these ingredients into chicken and rice stew with garbanzo beans, bacon, and heirloom tomatoes. Mr. Marriott and the board tasted the dish while chefs spoke about their CFR partnership. As Jen shared afterwards, "The content was very well received and while I could not get a picture of the chairman digging in while I was presenting, I can assure you that all of the board was visibly enjoying the dish. It was awesome to be able to highlight our partnership to such a prestigious group!"
Chef Stephen Toevs, a regular CFR Cooks! guest chef, reflected on the Tasting Panel. "The presentation was awesome! The highlight for me was not only cooking a dish to represent our work with CFR and Manna, but we also made enough chicken stew to pack up and donate 70 meals to So What Else, a youth engagement non-profit that provides afterschool programming with snacks and dinner. It's a powerful statement to be able to help our community in need. The Taste Panel event completed our community service mission for the year."
During the past year, Marriott International Headquarters, located in Bethesda, has regularly donated surplus unsold food from their cafeteria. Last year, chefs had a "freezer burn" event, cooking with all the food left in their test kitchen freezers. They whipped up about 500 meals in the morning that were donated to six CFR network non-profit organizations. In addition, to their hands-on help and donation of prepared meals, Marriott generously awarded Manna's CFR program with a $10,000 grant to support our efforts to feed more and waste less in the community.
Marriott's local volunteer efforts have been recognized by the broader community. Leadership Montgomery selected Marriott to receive the 2020 Innovative Award. This award recognizes businesses serving Montgomery County that have implemented a new angle or approach to employee volunteerism through service to the community. 
Looking ahead, Marriott continues its commitment to prevent food from being wasted. Marriott Hotels International Inc. is aiming to cut food waste by 50% at its properties by 2025. 
Through their commitment to volunteerism, reducing food waste, and partnering with Manna's CFR program, Marriott is doing far more than just feeding their own clientele; they are nurturing our community.