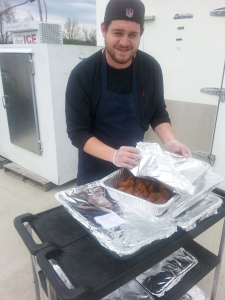 Planning a special event for your business, organization, or family? You can make a real difference in Montgomery County when hiring a caterer. Community Food Rescue (CFR) provides an easy way to share unused catered food with people in need food assistance —including approximately 70,000 residents in Montgomery County.  Donating surplus food also prevents good food from going to waste.
At Manna Food Center's annual Heroes Against Hunger event, not only did guests enjoy delicious hot and cold appetizers and desserts prepared by High Point Events and Catering, but the 10 trays of food that were not eaten, were donated. On the Monday after the event, High Point Caterers scheduled the donation using CFR's matching tool. The donation was auto-matched to the Montgomery County Coalition for the Homeless (MCCH), the county's only  year round 24/7 men's shelter. A CFR volunteer food runner picked up the donation and delivered it to MCCH and their clients enjoyed these prepared foods for dinner.
How CFR food donation helps your caterer
It's easy to get started
When selecting a caterer for your next event, let them know that ending hunger and not wasting food are important to you and your organization.  Specify in your proposal that they use Community Food Rescue to donate any surplus food to a food assistance organization.
If you or your caterer have an existing relationship with a food assistance organization in Montgomery County, CFR volunteers can deliver the surplus food directly to that organization.
You can find a list of caterers who are already part of the CFR network on our website: www.communityfoodrescue.org . 
Here's how it works
Before the event, your caterer signs up to use the CFR free matching software tool.
They can also download Chow Match, the companion free mobile app for IPhones or Android smart phones.
After the event, your caterer posts a donation of at least 12 lbs. of food on the CFR web tool or mobile app.  If necessary, we encourage caterers to aggregate their donation and refrigerate or freeze the food until this minimum is collected.
A volunteer food runner picks up the food at a mutually agreeable time. Food runners transport food using CFR's safe food handling protocols.
Details
We want to keep everyone safe! All food donors, including caterers, must be licensed food businesses.
If an event ends late at night, caterers are encouraged to refrigerate or freeze the food and post the donation for a next-day pick up.
Before pickup, caterers package and label food according to CFR food safety guidelines.
Upon pickup, caterers sign the food runner's CFR tracking form and electronically sign that the food has been handled according to CFR Food Safety Guidelines. Caterers rate their user experience.
Add food donation to your list of "must haves" when choosing a caterer for your next event. Community Food Rescue makes food donation easy. Your donation will greatly help our growing network of food assistance organizations, so that together we can feed more and waste less.