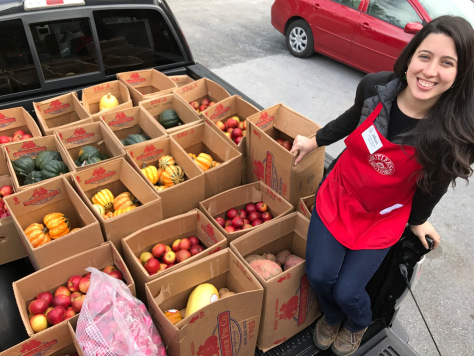 Since our start in Sept. 2015, Community Food Rescue's (CFR) growing network—now 200 members strong — has redirected 744,487 lbs. of rescued food, representing about 496,000 meals, to people experiencing hunger. As we plan our programming for 2017, please take this short CFR interest survey to let us know how we can make the most of your CFR experience.
Whether you are an active CFR food donor business, food recipient organization, volunteer food runner, or just interested in food recovery, we want to hear from you. Help us shape the kinds of programming we offer in the coming year, including in the following topic areas:
Community Food Rescue's success depends on handling and transporting food safely.  While volunteer food runners receive initial information on food safety practices as part of their CFR registration, we can offer additional training in food safety, CFR food runner tasks, and home food-safety practices. If you represent a food assistance organization, let us know if your staff or volunteers would be interested in  either in-person or webinar food safety training.  Although CFR training does not fulfill the requirements of ServeSafe classes or county licensing, we've honed the information to the special requirements associated with handling recovered food.
People engaged in food recovery are often interested in learning more about what's happening locally and nationally. Community Food Rescue is a program of Manna Food Center, our county's food bank. Would you like to meet people from CFR and Manna Food Center, and other key players in ending hunger and food waste in our community?
Would you like to take a free guided tour of Manna Food Center to see food recovery on a large scale and learn how CFR fits into Manna's overall mission to end hunger?
Would you like to meet CFR food donor businesses, recipient agency staff, and volunteer food runners to learn how your participation helps to feed more and waste less? Would you like to have a social gathering to meet other CFR network members to celebrate our achievements, learn some quick tips on participating in CFR, and hear what's planned for 2017?
Please take this short CFR interest survey so that we can make the most of your CFR experience. Thanks!