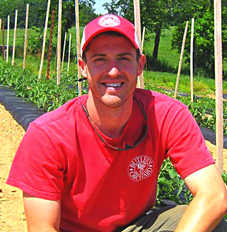 Third-generation farmer Tyler Butler hated seeing his farm's beautiful bounty go to waste. As a result, he got innovative—and signed up with Community Food Rescue to donate his surplus produce. The iconic Butler's Orchard in Germantown, Maryland, already well-known for its pick-your-own produce, farmer's market and festivals, now has an additional claim to fame. Since 2016, Butler's has helped feed hundreds of people who experience hunger in our county by donating more than 4,300 pounds of delicious vegetables and fruits as a member of the CFR network.
Tyler is Butler's general manager and a graduate of University of Maryland's Horticulture and Crop Production programs. In a recent interview, he shared his perspective on why food rescue is so important.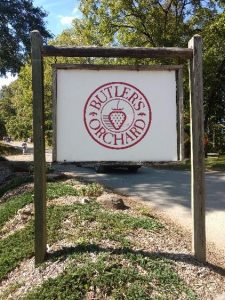 CFR: Before we talk food rescue, tell us a bit about Butler's Orchard, and your role with the farm and how you got there.
My grandparents started the farm in the 1950s after they graduated from college, and it's been a family business ever since. My dad is now the sole owner, my brother is the farm and finance manager, and my sister is the purchasing manager. When I graduated from college in 2008, I had to get creative about ways to bring in extra revenue to pay for my salary. I came up with ideas to extend the farm's produce line to include basics like tomatoes, onions and garlic as well as more unusual produce like purple heirloom potatoes.
CFR: How did your relationship with Community Food Rescue begin?
Last year, I met CFR's program director, Cheryl Kollin, at a farm-to-table dinner. As a produce farmer, I see far too much surplus food. At Butler's, for example, some apples are left on the ground when people pull them off the trees. If people dig potatoes and pick fruits that have spots, they will sometimes be left on the ground, too. Imperfect produce is still edible, useable food and, like any farmer, I didn't want to see any of it go to waste.
For years, my aunt and father made it a priority to participate in gleaning programs, and now the next generation does, too. We love it when groups come to the farm to collect produce that's left in the fields, but I wanted to do more. I tried working with a few groups to donate food, but became frustrated when I would prepare the produce for pick up and no one would show up. When Cheryl described the ChowMatch web application and described its matchmaking abilities, I decided to give it a try.
CFR: So, you've been a member of the Community Food Rescue network for more than a year. How's it going so far?
The software is great! I don't have a lot of time for text messages and phone calls, and I've found the ChowMatch app to be easy to use and reliable throughout each step of the process. Once I schedule a pickup, I receive a message that someone will be coming by to transport the food. It's been very reliable – a 100 percent record! Farmers are so busy during the growing season, so the fact that we don't have to do the deliveries ourselves is key.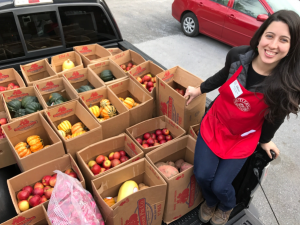 It also feels great knowing our produce will get to people in our community who need it. I like seeing exactly where our food is going, both on the ChowMatch app and through social media. Seeing photos of CFR volunteers delivering our produce to food pantries and shelters is great, because I know our produce is going to be enjoyed by a lot of people who can use this extra food.
CFR: What advice would you give to other farmers who are curious about food rescue?
Check out CFR's video and Facebook and Twitter accounts – you can see firsthand how reliable and professional they are. Give this group a shot and see what happens. After one good experience, I don't think a farmer will look back!