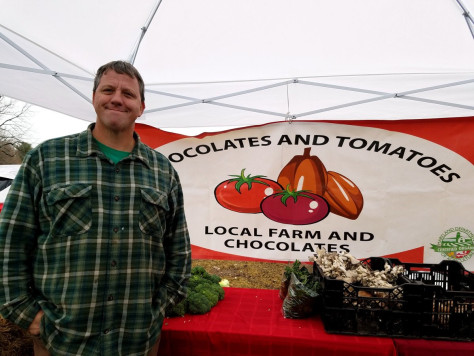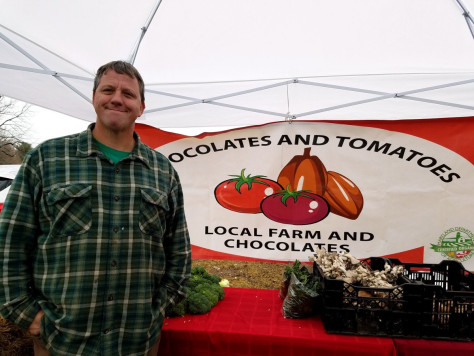 On Sundays, the Olney Farmers and Artists Market is THE place to be if you're into good food, local produce, unique art and building community. While you may first be enticed by vendors who provide delicious edibles and cool crafts, you'll want to stay longer to visit with exhibiting local non-profits and small businesses.
 The market is also a wonderful CFR partner. During the market's peak months, Manna Food Center sends trucks to pick up produce each Sunday when the market closes. After this year's peak harvest season – when there wasn't enough food to fill a truck – the market signed on as a CFR donor. All winter through April, delicious winter produce and prepared food was picked up by a CFR volunteer and delivered to Seneca Heights Apartments (SHA), which provides permanent supportive housing.
In mid-late May, as temperatures warmed and farmers began bringing Spring produce to the market, our volunteer food runners rescued 1,600 pounds over three weekends. Mark Mills, one of the market's vendors and owner of Chocolates and Tomatoes Farm, coordinated the efforts of eight market vendors, and several volunteer food runners packed up their SUVs to handle the extra large donation.
"It is a shame to see so much food going to waste," shared Mills. Each week, he donates a wonderful variety of produce, including carrots, beets, kale, spinach, arugula, and broccoli that didn't sell that day. May was particularly challenging but overall, he says the arrangement works "like clockwork."
CFR's work is only possible because of the time and resources provided by our tremendous network of partner food donors, food assistance organizations, and volunteers. Generous donations from partners like Olney Farmers and Artists Market form the backbone of our mission to feed more and waste less.
Now that it's June, the market shifted to its summer schedule. Be sure to stop by and check out the new offerings every week.