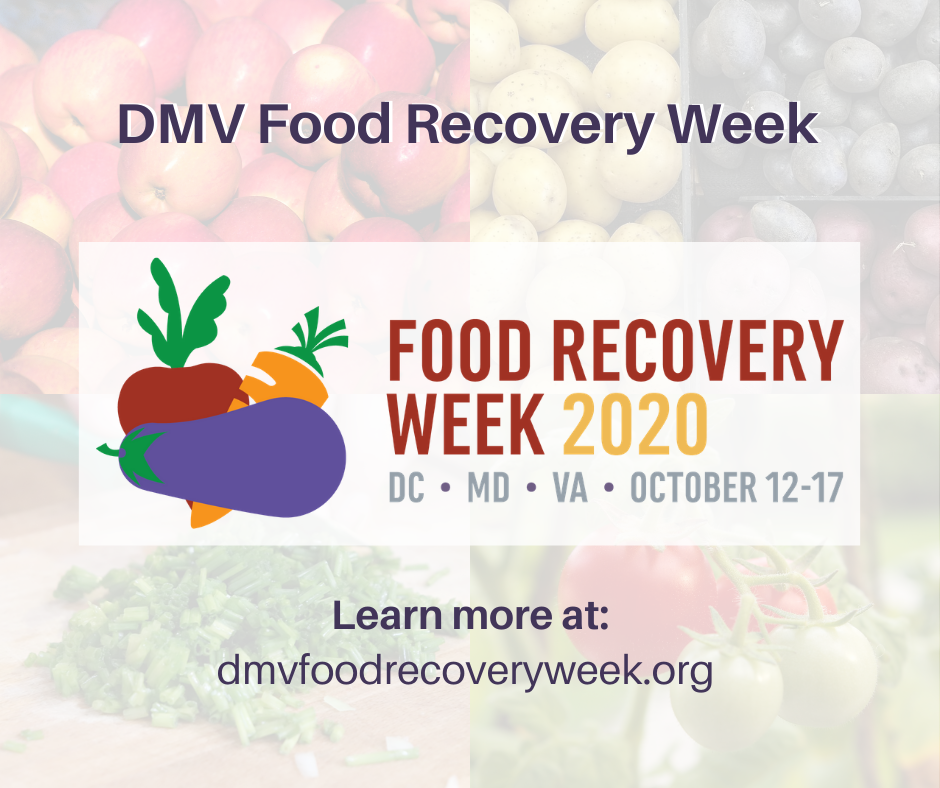 Manna Food Center's Community Food Rescue and the DC Food Recovery Working Group are combining forces this year to co-host DMV Food Recovery Week, October 12-17. The global pandemic has revealed how much we need a more resilient food system – one that both sustains the earth and provides sufficient, nutritious food for everyone who needs it. Join us for the week's engaging and enlightening free (and mostly virtual) events to learn easy things you can do at home – and ways to support community efforts – to reduce food waste and increase food security for all.
DMV Food Recovery Week offers one-hour interactive events.  Beginning on Monday, Oct. 12, learn home food preservation methods.  Join Food Recovery Network's executive director, Regina Anderson, who will demonstrate methods for canning, freezing, pickling, and dehydration  that  can help you avoid wasting money and food. Do you get overwhelmed when confronting a weird mix of veggies in your fridge? Join Caroline Howe, DC Food Recovery Working Group, for her Improvisational Cooking Office Hour. She'll offer tips on how to turn leftovers in your refrigerator into a new tasty meal.
And speaking of your home kitchen, would you eat an orange that turned purple or a turnip with a maggot in it? Learn the science and fun facts about food safety with Rachel Jackson in her Eat or Toss event. How can you get your kids to stop wasting food? Join Claudia Fabiano, DC Food Recovery Working Group, and Amanda Stone, World Wildlife Fund, on an interactive discussion and demo on how to raise little food warriors.
DC Parks and Rec Community Garden Specialist Josh Singer will show you how to maximize your garden harvests and supermarket produce by using the parts of your plants you didn't realize are not only edible but delicious. In another session, Josh shows you how to compost food scraps, mixed with garden waste, in critter- and smell-proof compost bins. This training is open to everyone and will allow DC residents to join any of the 56 compost cooperative sites in DC.
On Friday evening, grab your beverage of choice and settle in to watch Executive Chef Michael Rehm create some seasonal favorite dishes utilizing nose-to-tail, root-to-leaf  cooking. Recipes will be included.
In this time of pandemic, many more people, a 30% increase, are turning to Food Banks in our area. Join this session to learn how our region's food recovery efforts are helping address food insecurity while saving precious food from being wasted. Leaders from Food Rescue US, Manna Food Center's Community Food Rescue, and Prince William Food Rescue will discuss how they've responded to COVID-19 and how  you can get involved.
If you are hankering to get outside this fall, take an in-person tour and learn about the amazing work of Red Wiggler Community Farm, a sustainable farm where people with and without developmental disabilities come together to work, learn, and grow healthy food. 
All of the events are free, though registration for each event is required. Whether it's in our home kitchen or garden, grocery store or farm, or volunteering with a food recovery organization, we can all pitch in to become more resilient and less wasteful of food. We look forward to seeing you during DMV Food Recovery Week.