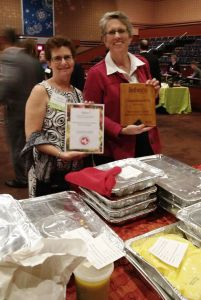 Manna Food Center was honored to be awarded Bethesda Magazine's prestigious Green Award for their program, Community Food Rescue, at the 7th Annual Bethesda Green Gala on October 6th. Of 45 nominees, Manna joins five other businesses, non-profits, and individuals recognized for making a difference in our community.  CFR won in the category of Innovation-nonprofit for, 'green products and/or services that is having or is poised to have a significant and measurable impact on sustainability either locally or on a broader scale.'
 "It's a sad fact that in our county of many riches, 1 in 12 people may not know where their next meal will come from," said Jackie DeCarlo, executive director of Manna Food Center.
"Our hope is that this wonderful Bethesda Magazine award will highlight the progress that can be made when communities committed to ending hunger and greening our environment come together." –Jackie DeCarlo
While Manna's mission is to eliminate hunger  in Montgomery County, the Community Food Rescue network of food donor businesses, food assistance organizations and volunteer food runners, is also tackling a local and global environmental problem.
Twenty-three percent of all solid waste in Montgomery County–146,000 tons per year—is food waste. The CFR network makes it easier for surplus food from local businesses to get into the hands of families that may not know where their next meal will come from.
The Bethesda Green Gala was held at the historic Bethesda Blues and Jazz Supper Club. "Not only was this a night of honors and recognition in our community, it was a prime opportunity to show CFR in action," explains CFR program director, Cheryl Kollin. CFR partner Bethesda Blues and Jazz Club and others providing food for the evening's fete – including Whole Foods Market, Nando's Peri-Peri, Silver, Chef Tony's Restaurant, Corcoran Caterers, and Cava Grill – donated their unserved, surplus food after the event.
"Bethesda Blues and Jazz Club (BBJC) posted the donation using CFR's free Chowmatch software and it was auto-matched to the Montgomery County Coalition for the Homeless(MCCH), a men's shelter in Rockville," shared Cheryl. After the dinner service, the food vendors packed up their delicious unserved food—including chicken pot pie, meatloaf, mashed potatoes, crab dip, chicken and wraps, properly labeled the contents, and stored the pans in the BBJC refrigerator overnight. The next day CFR volunteer food runner, Bill, delivered 23 trays of food to MCCH to be served to 120 men at the shelter.
This award is a testament to the commitment and hard work of so many partners – county officials, local funders, grocers, caterers, farmers, and other food businesses, our public school system, food assistance organizations, and amazing volunteers. Community Food Rescue makes it easy to waste less and feed more people here in Montgomery County.
The Green Award for innovation recognizes the great things that can happen when communities that care deeply about solving hunger and environmental problems come together. Cheryl says, "I hope the award will help us grow the CFR network with partners like these so that we can redirect even more food." Click HERE to learn how you can donate food, receive food, and volunteer.