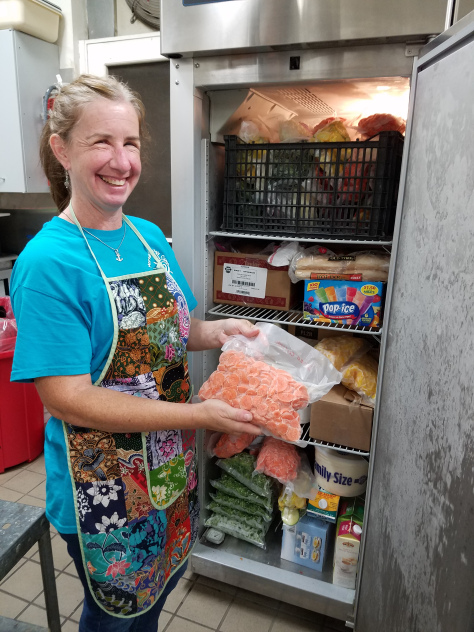 The simple lack of refrigeration or freezer space is often cited as a major bottleneck in recovering and redistributing surplus food to where it is most needed.  For the past three years, Community Food Rescue (CFR)has awarded mini-grants to its members to increase their capacity to serve more people in the community who experience hunger.  Food donor, Red Wiggler Community Farm, and food assistance organization,Liberty Grove United Methodist Church (UMC), are among this year's recipients.
This year, 11 organizations received a total of $60,000 thanks to generous funding provided by Montgomery County, Burness, and local foundations. The CFR mini-grants, ranging from $700 to $15,000, are designed to help food assistance organizations purchase the kind of infrastructure they need most, including refrigeration. 
Liberty Grove UMC in Burtonsville started their twice monthly Community Supper and food pantry three years ago as a way to welcome all who are hungry, including those who are elderly, homeless, new immigrants, lonely, or just in need of a break from cooking.  "We serve 80-100 people every other week, so we could not accept food on the alternate weeks due to lack of refrigerated storage.  Not only has the refrigerator increased our capacity, it has also decreased the cost of our Community Supper," explains volunteer Susan Burgess, who oversees these church programs. "Now we can accept rescued food and hold fresh produce until a volunteer chopping crew is available to chop, process, and freeze it to make soup throughout the year,"Susan said.  
While Susan at Liberty Grove UMC needed refrigeration to store rescued food until it is cooked and served, Red Wiggler Community Farm needed additional refrigeration for post-harvest storage. In addition to providing meaningful farm work to developmentally disabled adults, this non-profit farm also set a goal to distribute 30% of their harvest to low-income and food- insecure community members. This growing season, with their CFR mini-grant-funded refrigerator, Red Wiggler exceeded their goal, harvesting, storing, and distributing 39% of their yield, valued at about $36,000.
"Our increased refrigeration capacity enabled us to share more of the farm's perishable produce including fresh greens like chard, kale, mustard, lettuce, arugula, and Asian greens as well as eggplant, peppers, and squash," explained Executive Director Woody Woodroof.
While refrigerators and freezers were the most requested infrastructure this year, another CFR mini-grant recipient found unique ways to fulfill their capacity needs. Rainbow Community Development Center used their mini-grant to purchase a new lift gate for their truck. Now they can access loading docks and move much more food more efficiently.
This year's other grant recipients include:Family Services, Inc.,Montgomery County Coalition for the Homeless,growingSOUL, Rainbow Place, Silver Spring United Methodist Church, Takoma Park Presbyterian Church, and the Western Upper Montgomery HELP, Inc.(WUMCO).  In the past three years, CFR has distributed more than $200,000 in mini-grants that has enabled our food assistance provider partners to do the vital work of feeding more and wasting less.