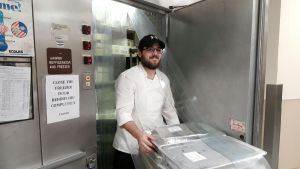 Step onto the Asbury Methodist Village (AMV) campus and you just feel it. The camaraderie. The possibility. It's a welcoming environment created by the energetic, service-oriented people who live and work at this 130-acre Gaithersburg, Md., continuing care retirement community. In 2016, Asbury and its partner Sodexo, which provides facilities and dining management on the campus, committed to helping the broader Montgomery County community through their new partnership with Community Food Rescue (CFR).
Three times each week, Asbury's chefs pack up surplus, healthy, and safe prepared food—fish, chicken, and beef entrees, rice, pasta, potatoes and vegetable side dishes and soups. All the food is frozen and easy to transport by CFR volunteer food runners. The meals are delivered to CFR network food assistance organizations including, Seneca Heights Apartments, permanent supportive housing, The Montgomery Coalition for the Homeless serving their men's shelter,Family Services, Inc. serving clients receiving mental health care and toInterfaith Works serving formerly homeless women with mental disabilities in transitional housing."Our clients just love the food and we're very appreciative of how delicious and healthy this food is for our clients," said Sarah Cherner, Program Assistant at Interfaith Works.
Asbury Methodist Village Executive Director Rob Liebreich has seen first-hand how passionate Asbury associates and residents are about being a force for good in the greater D.C. metro region. "They are very creative in finding new opportunities for giving back and forging partnerships to make that happen," Rob said. "With our mission to do all the good we can for those we serve, Asbury is so pleased to play a role in addressing this critical need in Montgomery County.
Asbury, with four kitchens and 12 dining rooms, is CFR's first large scale, prepared food donor thanks to our new partnership with Sodexo. Sodexo, world leader in Quality of Life services, has been committed to alleviating hunger in the communities it serves for over 20 years. With its North America Headquarters located in Montgomery County and thousands of operations across the country, its food service establishments offer a tremendous opportunity to increase food recovery and reduce wasted food.  
The Sodexo team at Asbury has worked closely with CFR on the logistics of food safety practices, packaging and labeling, and matching these donations with food assistance organizations that have the capacity to heat and serve prepared food. Sodexo and Asbury's impact within the CFR network has been huge. In just its first five weeks, Asbury's four kitchens have aggregated, packaged, frozen and donated the equivalent of 743 nutritious meals for the Montgomery County community. 
Lester Britton, Sodexo Assistant Dining Operations Manager, explains how they implemented the new food recovery initiative with their staff. "We spoke with the entire team, including servers in the dining room that do not interact with the food recovery, about the importance of food donation. Some members of staff have experienced hunger and appreciate the way they are giving back to their local community." Lester explained that packaging their surplus food for donation was a great way to train and refresh the staff's understanding of freezing, recording temperatures, and food safety procedures.
Lester encourages other food establishments to join the CFR network. "Food donation is not burdensome, no matter what, because otherwise we would be likely throwing the food away," he offers. "The only thing I would change is that we would've started earlier."  
Community Food Rescue seeks food donor businesses to join the CFR network. Visit our Donor page to learn more and to sign up to donate unserved, surplus food, either periodically or on a weekly basis.