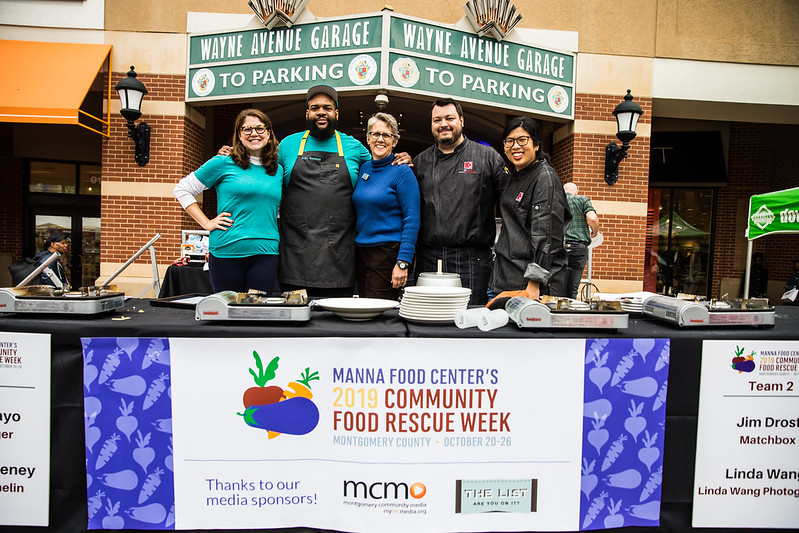 This year's Manna Food Center's Community Food Rescue Week, Oct 20-26, demonstrated how our community is feeding more and wasting less with five public events.   
The aim of the week is to raise public awareness about food waste, hunger, and recovery in Montgomery County. This year's events were a great success, enabling us to thank CFR network members, expand the network, celebrate our accomplishments, and reinforce our close ties with supporters and partners. 
Together, the events followed  the journey of post-harvest apples – – from being gleaned at the orchard and distributed to neighbors in need, to being cooked into delicious apple crisp and sampled at events. CFR week finished with a composting demo to show how food scraps can be used to enrich the earth. Read on for highlights of each event.  
Gleaning Apples at Butler's Orchard 
Montgomery County Master Gardeners and GlaxoSmithKline volunteers joined us at Butler's Orchard, our event co-host and CFR network food donor, to glean the apples. Most of the 1,200 pounds of apples were distributed to CFR network food providers that serve neighbors experiencing hunger. The rest were baked into apple crisp at the Cooking with Recovered Food event late in the week. 
Cooking with Recovered Food 
Following gleaning at Butler's Orchard, we joined with co-hosts Silver Spring United Methodist Church, STEP Training Chef Scott Ulen, Montgomery County Food Council, and KindWorks volunteers to cook gleaned apples into apple crisp. Using recovered food, we also cooked other delicious dishes such as crostini with greens and fall grain salad. The 100 prepared meals were donated to the Montgomery County Coalition for the Homeless, a CFR member. We also prepared appetizers and apple crisp that were served at other Community Food Rescue Week events.  
CFR Happy Hour 
Foodies and food advocates mixed and mingled at True Respite Brewing Company to discuss our local food system, promote food security and fight waste. We recognized CFR volunteers and this year's CFR mini-grant awardees. Attendees enjoyed True Respite's beer, wine, kombucha, and soda that accompanied delicious appetizers and desserts, made at the CFR Cooks! event earlier in the week.  
No Waste, Big Taste Cooking Competition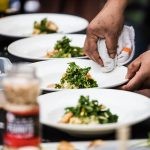 Our No Waste, Big Taste cooking competition drew a large crowd at the Silver Spring Fresh Farm market. The event pitted two CFR member donors —PLNT Burger and Matchbox – and two sous chefs against each other to see whose chefs could make the best dishes with donated and rescued ingredients from the Manna Food Center's warehouse and market vendors. The two chefs did not know in advance what ingredients they would have to work with, yet in, two quick rounds they each created an incredible appetizer and main dish. Jenna Umbriac, Manna Director of Programs, emceed the competition and kept the crowd's rapt attention with chef, sous-chefs, and judge interviews, and trivia questions to the audience about Manna, CFR, hunger, food waste etc. Farm market attendees were treated to samples of the apple crisp as they learned about CFR.  The vote tally was sooooo close and the PLNT Burger team won!
Koiner Farm Tour and Compost Demonstration 
Koiner Farm, the only urban farm in Montgomery County, welcomed us along with Bethesda Green, the Montgomery County Food Council, the Compost Crew, and the Montgomery County Department of Environmental Protection. Each organization shared its connection to the food system, starting with how food is grown to how food scraps are turned into compost.  Attendees learned how to reduce food waste at home while enriching their gardens and the environment by composting food scraps.   
For more highlights visit: CFR Website www.mocofoodrescueweek.org. Community Food Rescue Week happens once a year, but volunteers are needed all year round. Visit www.communityfoodrescue.org to learn how you can help to feed more and waste less.