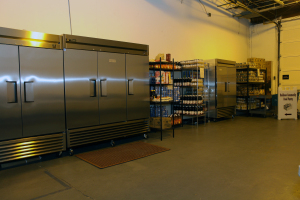 Sometimes a small investment can have a huge impact. A new refrigerator or freezer can make all the difference in helping a food assistance organization start, advance, or enhance food recovery in the community. Thanks to the generous funding provided by Montgomery County, leveraged with additional private support from the Mead Family Foundation and Burness, this year's Community Food Rescue (CFR) Mini-Grants Program awarded $60,000 to eleven non-profit food assistance organizations. In 2015, CFR mini-grants provided $40,000 to eight agencies.
The Mini-Grants Program amplifies efforts by the Community Food Rescue network, a program of Manna Food Center, to collaborate on food recovery throughout Montgomery County, Maryland. The network enhances the good work of businesses, agencies, and organizations that already recover perfectly good food before it is thrown away. The grants build agencies' capacity to receive and redistribute food to those in our community who experience hunger.
The Mini-Grants Program is managed by Intentional Philanthropy (IP) and Manna Food Center. Applications totaling more than $100,000 were reviewed and grants were awarded by a distinguished panel of professional chefs, social service agencies, government officials, and Food Council members.
Among this year's grant recipients is Liberty Grove United Methodist Church, an all-volunteer effort located in Burtonsville, which currently provides a twice monthly free community supper. "We serve about 70 people plus a food pantry that serves about 10 families every other week," explained Susan Burgess, a volunteer who runs the program. Liberty Grove has received 650 lbs. of rescued food through CFR thus far.
 "We serve about 70 people plus a food pantry serves about 10 families every other week."–Susan Burgess, Liberty Grove United Methodist Church
Western Upper Montgomery County HELP, Inc. (WUMCO). a non-profit organization, provides groceries to more than 400 people per year in the Poolesville area, a relatively rural part of the county.  WUMCO was matched with a CFR donor farm, From the Earth Foods LLC, which is literally just up the road, through CFR's matching tool. "It's been great to receive such beautiful and fresh produce for our clients," said Catherine Beliveau, Executive Director. "The mini-grant allows us to purchase a new refrigerator and vegetable storage bins so that we can offer this delicious and healthy produce to our clients."
Other CFR network agencies that received mini-grants this year include Family Services Inc., growingSOUL,  Montgomery Coalition for the Homeless, and Rainbow Community Development Center. In addition, mini-grants were awarded to agencies that are new to the CFR network including: Graceful Growing Together, Red Wriggler Farm, Rockville Presbyterian Church, Silver Spring United Methodist Church, and Takoma Park Presbyterian Church. These five non-profits join the 27 CFR food recipient organizations that currently receive rescued food through CFR's matching tool and companion web app, called Chow Match.
CFR continues to bring new donors and recipients into the system and engage the entire community to reduce food waste and feed more people.