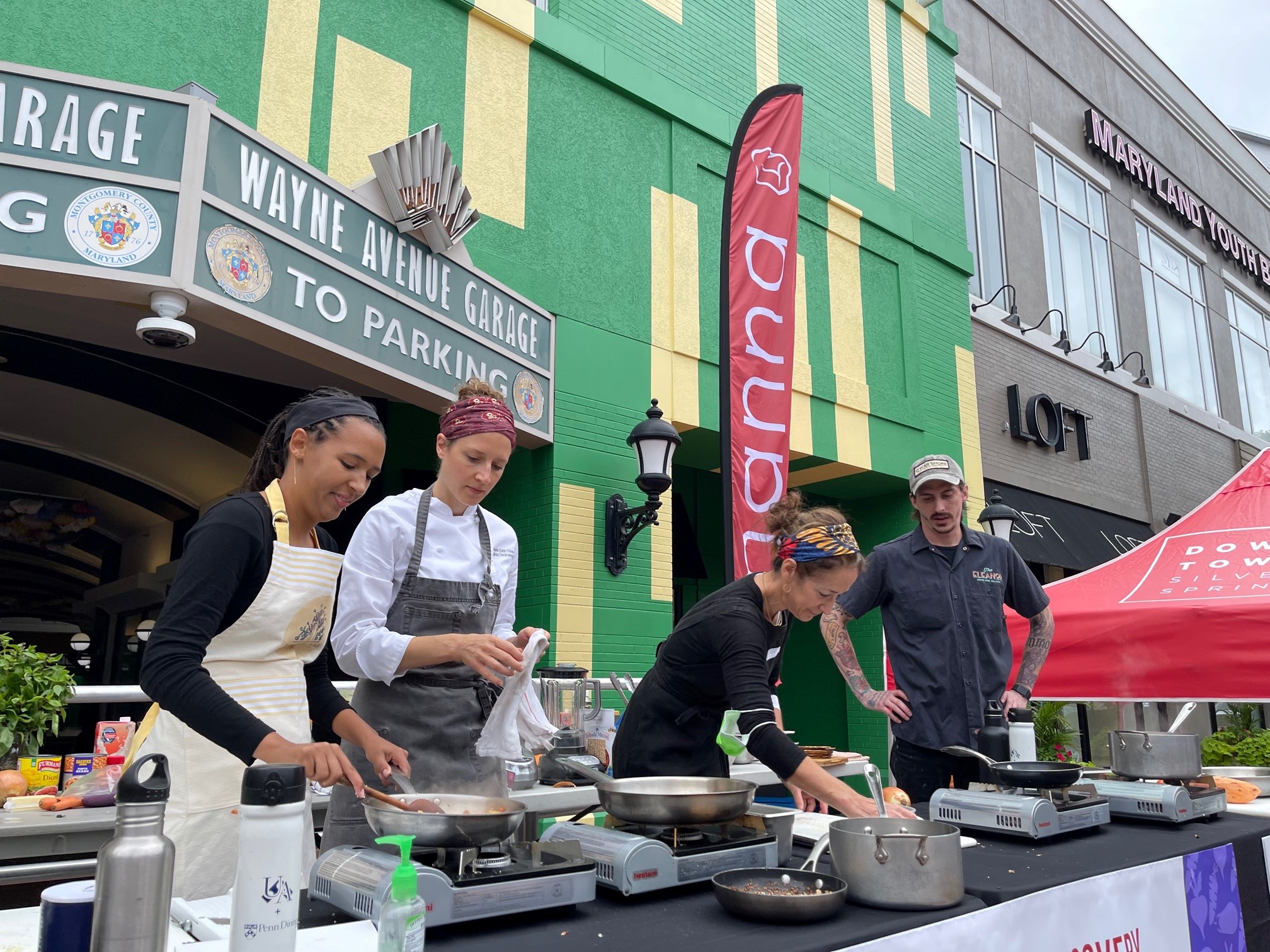 On a sunny and brisk October morning, locals gathered in Downtown Silver Spring to watch two teams of professional and amateur chefs compete in the third annual No Waste, Big Taste: A Rescued Food Cooking Competition. The competition, organized by Manna Food Center (Manna) and co-hosted by Downtown Silver Spring, was the final event of DMV Food Recovery Week.
Chef Jennifer O'Brien, representing Marriott International, and sous chef Nia Nyamweya of Beauty Blooms Farm, were named winners of the competition. Chef Jacob Mosbrucker, representing The Eleanor in Silver Spring, and sous chef Sophia Maroon, founder of Dress It Up Dressing, came in a close second place. Each team created two courses using a basket of mystery ingredients and 'ugly' produce, including kale, potatoes, zucchini, and matzo that were set to be thrown away before they were rescued.
"Hats off to these incredible chefs for turning 'unsellable' vegetables and other rescued food into such beautiful and delicious dishes," said Jackie DeCarlo, chief executive officer for Manna. "The competitors demonstrated great skills and put on a fun show today, but even more importantly they helped spotlight the important role that restaurants, service industry institutions, food companies, and farmers can play to address hunger and food waste in Montgomery County."
An estimated one out of 10 people in Montgomery County experience food insecurity. Manna's state-of-the-art Community Food Rescue program makes it easy for local food businesses to connect their surplus food to community members experiencing hunger. To date, the Community Food Rescue network of businesses, volunteers, and hunger relief organizations has rescued and distributed 7.6 million pounds of food—the equivalent of 6.3 million meals.
The competition's judges – Maryland State Delegate Jared Solomon (D18), Rick Eats DC blogger Rick Chessen, and Rev. Kendra Smith of Kingdom Fellowship AME Church – scored each course based on taste, presentation, and use of all 'mystery basket' ingredients. The winning two-course meal of garbanzo bean pesto appetizer and Mediterranean-inspired beef kofta ultimately won the day but, both teams wowed onlookers with their creativity.
"This cooking competition and all of our events this week were about inspiring community members to action. We are grateful for the generosity of the sponsors, organizations, and volunteers that made DMV Food Recovery Week a success," DeCarlo added.
Manna's Community Food Rescue's collaboration with the DC Food Recovery Working Group on DMV Food Recovery Week once again once again highlighted ways the community can come together to tackle food waste and hunger. More than 300 people attended the virtual and in-person events. You can view highlights and recordings from the week's events on the DMV Food Recovery website.