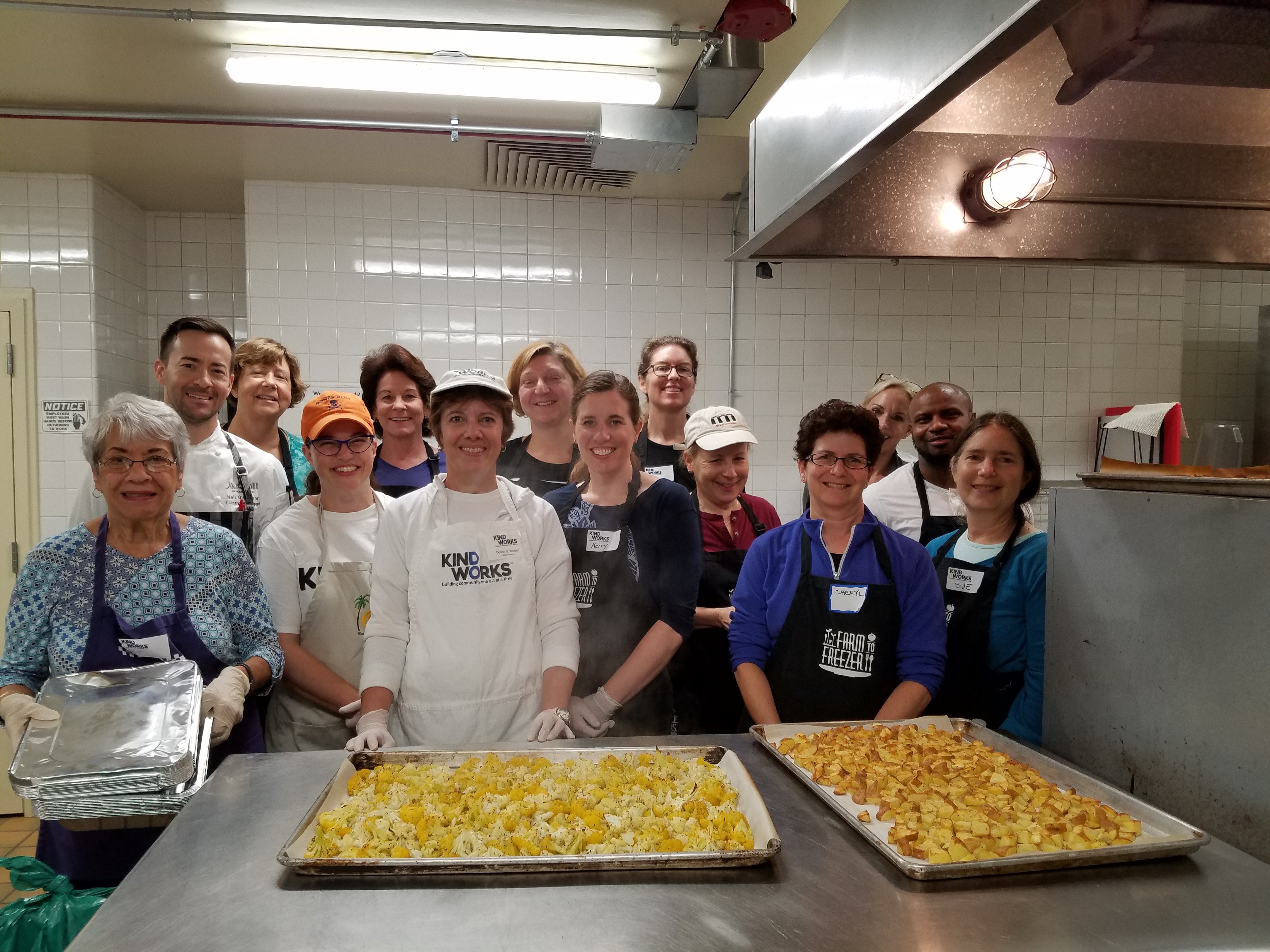 KindWorks is a fitting name for a non-profit organization with more than 1,600 volunteers who serve a host of needs in Montgomery County. Founded in 2008 as Mover Moms, the organization connects people to activities that support tolerance, combat poverty and hunger, tackle environmental problems, and serve other community needs. Their website and calendar make it easy for people of all ages to find and sign up for any of the 20 activities offered per month.
When Community Food Rescue launched CFR Cooks! to cook recovered food into delicious and nutritious meals for CFR network shelters, we turned to KindWorks to help. Executive Director Deb Lang and Board President Denise Schleckser were immediately and enthusiastically on board. "It's a fantastic idea to take food that is almost at the end of it's useful life and turn it into these amazing meals for people who need it the most. We are thrilled to be part of something that fits so well with our mission to build community through service," said Deb.
KindWorks posts CFR Cooks! sessions on their website calendar and promotes them to their extensive list of volunteers. They recruit and manage 12-15 volunteers for each cooking session. Even in last year's start-up pilot phase of CFR Cooks!, volunteers eagerly signed up and loved helping. Word travelled fast that they got to work shoulder-to-shoulder with professional chefs including those from Marriott International who are skilled in creative cooking and work well with groups of volunteers.
For each cooking session, the guest chef and KindWorks volunteers prepare about 100 meals and clean up, all in three hours. A CFR food runner transports the prepared trays of food to CFR network agencies that offer hot meals, including two Montgomery County Coalition for the Homeless (MCCH) shelters.
 Lynn Rose, Community Engagement Specialist at MCCH, offers feedback on how the prepared food is received by their clients. "MCCH staff said the food looked great and there were absolutely no leftovers!   Residents of transitional housing at Cordell Place and Seneca Heights said the food tasted great!  And they wanted the people who made the food to know that we are so glad to have it."  
"These meals are the best some of our residents had all week long," Lynn explained.  "These are not families and individuals who get to go out to eat much at all, so the quality of the food was a real treat! Thanks to each of you for helping to ensure the people we serve have healthy food every day."
Volunteer slots on the KindWorks calendar fill quickly—with retirees, young adults, and even families with kids 13 and older.  CFR Cooks! holds cooking session twice a month. To learn more and sign up to volunteer, visit the KindWorks website calendar . Click on "Help Cook Recovered Food Together in Silver Spring."
KIndWorks efforts are recognized both locally and nationally. The organization won this year's Montgomery Serves Award and was named Potomac Chamber of Commerce Non-profit Business of the Year.  The organization was also honored nationally by the Brees Dream Foundation's Super Service Challenge. Community Food Rescue is thrilled and honored to partner with KindWorks.