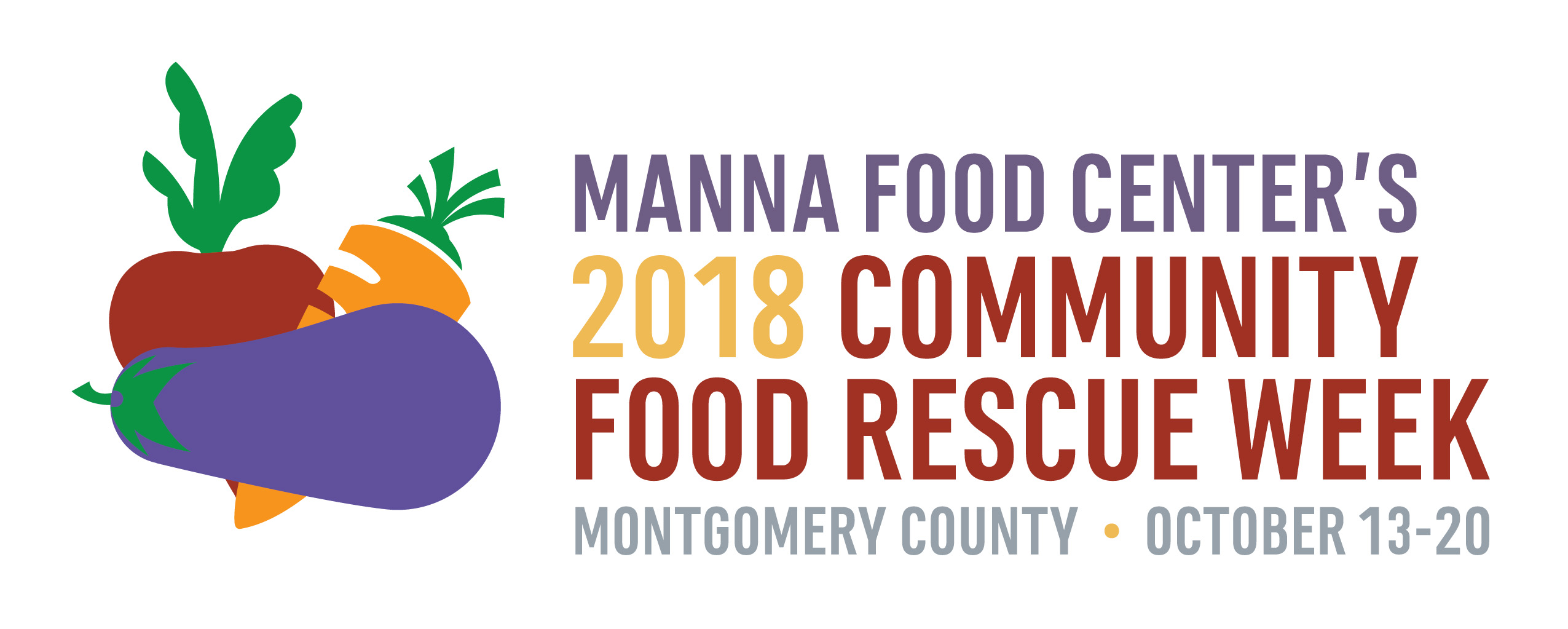 Manna Food Center Kicks off Montgomery County's First Ever Community Food Rescue Week
Events Celebrate the Power of Community to Eliminate Hunger and Feed More While Wasting Less
Gaithersburg, Maryland — Manna Food Center (Manna), Montgomery County's largest food assistance organization, is hosting the county's first-ever Community Food Rescue Week from October 13 through 20. Manna is collaborating with businesses and non-profit organizations across Montgomery County to organize hands-on activities that will inspire action and spotlight ways the community can come together to tackle food waste and hunger.
During the week-long series of events, members of the community can transform rescued food into nutritious dishes for neighbors experiencing hunger, test their food knowledge during a night of trivia, glean apples from a local orchard, learn how to compost food scraps, and more.
Topping off a jam-packed week of engaging, interactive, and educational events, Manna will host No Waste, Big Taste: A Rescued Food Cooking Competition. Local chefs will compete "Chopped" style to turn ugly produce into culinary masterpieces at FRESHFARM Downtown Silver Spring Market.
"Food waste and hunger are serious problems, but Community Food Rescue Week shows people that doing their part to solve them can be fun," said Jackie DeCarlo, chief executive officer for Manna. "We are excited to help people learn what they can do at home and at work to feed more and waste less."
This first-of-its-kind event in Montgomery County will also celebrate the progress of Manna's Community Food Rescue network of businesses, volunteers, and hunger relief organizations that utilize an innovative software application to make rescuing and redistributing perfectly good food easier than ever.
"The tremendous contribution of many businesses, non-profit organizations, and volunteers has enabled the Community Food Rescue network to redistribute more than four million pounds of food – the equivalent of 3.3 million meals – to community members experiencing hunger," said Jackie DeCarlo. "We are only getting started and we are confident that the week's events will inspire deeper involvement from our community. Manna is incredibly thankful for the generosity of our sponsors, businesses, organizations, and volunteers that have made Community Food Rescue Week possible."
Most Community Food Rescue Week events are free, and all are open to the public, but space is limited at some events. Please visit www.mocofoodrescueweek.org to learn more and register.
The DC Food Recovery Working Group will host a parallel DC Food Recovery Week. A schedule is available here.
For more information, please contact Carrie Brooks at carrie@akbstrategies.com or (314) 677-0129.
###

ABOUT MANNA FOOD CENTER: Manna Food Center is the designated food bank for Montgomery County, MD. For 35 years Manna has provided supplemental food assistance to food insecure residents in Montgomery County. Manna supports more than 3500 families each month through its three main food distribution programs Food for Families, Smart Sacks, and Community Food Rescue. Additionally, Manna's Farm to Food Bank and Nutrition Education programs give participants access to fresh produce and the knowledge needed to make healthy decisions for themselves and their families. Visit www.mannafood.org for more information.
ABOUT COMMUNITY FOOD RESCUE: The Community Food Rescue network, a program of Manna Food Center, is the coordinated food recovery network of Montgomery County, Maryland. This program utilizes innovative matching software to enhance the good work of businesses, individuals, and organizations that recover and redistribute perfectly good food to people experiencing hunger. Our goal is to mobilize the entire Montgomery County community for collective impact in tackling food insecurity and food waste. Visit www.communityfoodrescue.org for more information.