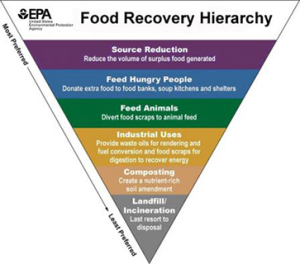 On July 19, 2016,  I gave testimony on behalf of Community Food Rescue (CFR) in support of Montgomery County Bill 28-16, creating a Strategic Plan to Advance Composting and Food Waste Diversion.  The Bill was introduced by Council Member, Roger Berliner. Food Recovery sits at the top of the EPA Food Recovery Hierarchy, an inverted pyramid for handling food that is not eaten. Lower on the pyramid, food that is not fit for human consumption should be fed to livestock or composted instead of incinerated or dumped into precious landfill space.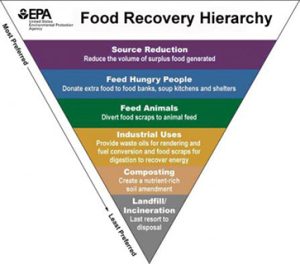 This Bill has significant agricultural and environmental health benefits and would increase food waste composting capacity in our County. It will play a critical role in achieving Montgomery County's  70% recycling goal by 2020.
CFR is proud to have joined 12 of our colleagues in providing testimony, including: Eileen Kao, MoCo Department of Environmental Protection; Aliza Fishbein, Agricultural Advisory Committee; Heather Bruskin, Montgomery County Food Council; Ryan Walter, The Compost Crew; Cheryl Kollin, Community Food Rescue; Doug Alexander, Backyardcomposting.org; Brenda Platt,Institute for Local Self-Reliance; Susan Eisendrath, Montgomery County Food Council; Brian Ditzler, Sierra Club Montgomery; Kit Gage, Friends of Sligo Creek; Paul Tukey, Glenstone; and Ane Sturm, Sugarloaf Citizens Association.
Below is CFR's testimony describing how composting fits into a comprehensive approach to food recovery.
Dear members of the Montgomery County Council:
My name is Cheryl Kollin and I'm the Program Director of Community Food Rescue, a program of Manna Food Center. As you know, thanks in part to County Council support, Community Food Rescue plays an important role in preventing good food from going to waste. We implement strategies that sit at the top tier of the EPA food recovery hierarchy by recovering food from donors and distributing it to our county's residents who are experiencing food insecurity. This is accomplished through a network of food assistance agencies powered by volunteer food runners.  As of today, Community Food Rescue is a growing network of 99 food donor businesses, 28 food assistance organizations, and 43 volunteer food runners. In 2015, our food assistance organization members reported that they received 2.8 million lbs. of food that translates into 2.3 million meals. This also saved agencies from having to purchase $4.9 million worth of food with their limited resources.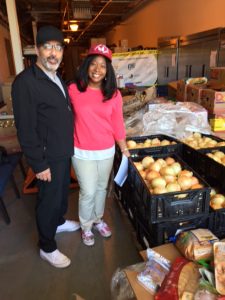 CFR volunteers transport good food from businesses to food assistance organizations shared with people. Despite relationships with farmers who pick up food scraps for livestock, there are not enough farmers who can take the type of scraps generated.  Currently there is no economical or efficient way to share it given the scale of Manna operations.  Manna welcomes support in creating many more channels for getting food scraps to livestock and compost.  It would save Manna money now spent on waste disposal and would contribute to a greener county.
We all know that food not fit for human consumption requires these other types of waste diversion strategies. Community Food Rescue is pleased to support Bill 26-18 to address the EPA's tiers of food for animals and food for composting. By strengthening the strategies, infrastructure, and resources focused on these two tiers, this Bill will help the County achieve its 70% recycling goal and reduce the approximately 140,000 tons of food waste it currently generates annually.
In mandating a strategic plan for food waste diversion, this Bill will address the sometimes conflicting policies and barriers that prevent food waste diversion. We are excited by this Bill's comprehensive approach to create waste diversion streams at diverse scales, at the household, neighborhood, and county levels.
Cheryl Kollin, Program Director