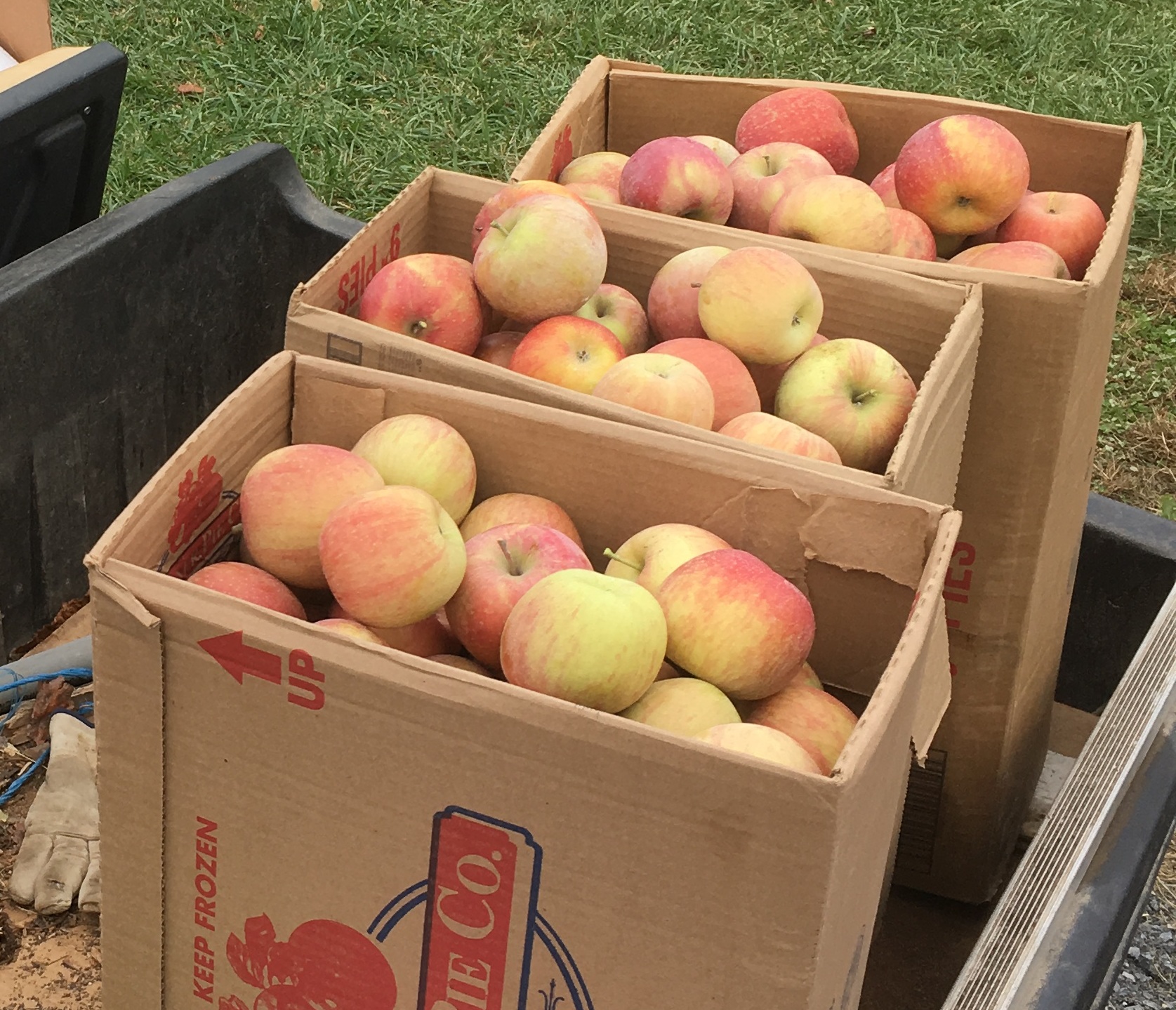 When Pam Hosimer, Nutrition Educator for the University of Maryland Extension Food Supplement Nutrition Education program learned that Waters Orchard  had a bumper crop of apples that would go to waste after their pick-your-own season ended, she had a better idea. Pam teaches nutrition education in Montgomery County Public Schools that have more than 50% Free and Reduced Meal Students (FARMS).  After her fall lessons of taste testing and making apple sauce in the classroom, Pam explains, "Many of the students ask me for additional apple slices or another cup of applesauce. I only have enough for a "tasting" so I feel bad telling them 'No,' especially knowing that many of them are food insecure."
Waters Orchard has been an exceptionally generous partner, either donating the apples or only charging a token fee for the bushels of apples Pam brings to the schools. When she learned that owners Susan Butler and Washington White would let the remaining apples just "drop" as the weather turned cold, she couldn't stop thinking about how the apples were going to go to waste. "I kept hearing the voices of my students saying, 'Could I have more apples Ms. Pam?'."
Pam asked the Waters Orchard owners if they would donate the remaining apples if she could get volunteers to pick them. They agreed, and in just six days she put her idea into action. She asked the principals of three schools– Washington Grove Elementary School, Judith A. Resnik Elementary School, and the Gaithersburg Judy Center–to see if they were interested and would be able to wash and distribute the apples to the students. She received an enthusiastic "Yes!" from all of them.
As a Montgomery County Master Gardener and active Girl Scout volunteer and troop leader, Pam put the word out to help glean apples.  Four Girl Scouts from Damascus and a dozen Master Gardeners came. Fellow Master Gardener and CFR Outreach Coordinator Susan Wexler also offered Community Food Rescue to help with transportation.  Butler's Orchard, a related family business, is a very generous current CFR food donor.  Susan Butler added Waters Orchard to CFR and posted this donation.  CFR volunteers got email requests for transportation, and Susan Young accepted the run. Marla Caplon, the new Director of Student Wellness Initiatives for Montgomery County Public Schools, came to help pick apples. Jillian Levine, the Secretary of the Montgomery County Farm Bureau, also helped spread the word.
Pam was thrilled with the turn out and work accomplished. She had hoped to pick 1,200 apples, one for every student and staff member at the schools. In just four hours the group picked about 4,500 apples, which were delivered to three MCPS schools by the next day. "The students' response was so gratifying," said Pam.  At Washington Grove Elementary School, students helped themselves to a huge bowl of fresh apples in the cafeteria daily.  At Judith A. Resnik Elementary School, each student took a few apples home for Thanksgiving. The families at the Gaithersburg Judy Center made pies and applesauce for their holiday meals. Apples also were delivered to the University of Maryland Extension Office for family programs serving families in need.
"It was such a rewarding experience for me to be able to get more fresh local apples to the students and families I work with," beamed Pam. "As a nutrition educator, I see heartbreaking situations every day. Knowing this project might make a difference in someone's hunger means a lot to me.  And the support of the community to help with this project was something I am truly grateful for this holiday season."
Many of the volunteers expressed interest in doing projects like this in the future to build on the success of this one.  Pam hopes to make that possible.