Food Safety for Volunteer Food Runners
Thank you for helping to transport food from food donors to food assistance organizations! Below is everything you need to know to make sure you handle and transport food safely.
Watch these short, informative food safety videos for food runners.
Food Runner Guidelines For
Food Donation Pick Up & Delivery
Hand Washing Techniques for Food Safety
All CFR participants must follow county approved Food Safety Guidelines for safe handling, transportation and distribution of rescued food, which are available for downloading and printing. You'll need to read these Guidelines and watch the videos above before taking the food safety quiz when you sign up in ChowMatch.
How do you know if food is safe to eat, even if the label is past the current date or a can is slightly dented? How do you properly store, thaw, cook, and freeze different types of foods? Read CFR's Food Safety Brochure to find out, available as downloadable PDFs in these languages: English, French, Korean, Mandarin, Russian, Spanish, and Vietnamese.
If you'd like printed copies of English or and Spanish language brochures, please contact the CFR Director, cheryl@communityfoodrescue.org.
Food Safety for Food Runners
Important information for volunteer food runners
Personal Hygiene Requirements
Prepare your Vehicle
Transport Food Safely
Special Instructions for Perishable Foods
Food Safety Tools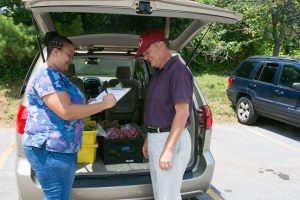 Take these items on every food run:
CFR Food Donation Tracking Form and pen
CFR food labels
Directions to donor and recipient locations and phone numbers
CFR hat, car magnet, post cards to identify yourself as a CFR volunteer
Mobile phone to check last minute food run emails or texts and take photos
Administrator's contact info: Cheryl@communityfoodrescue.org (240) 491-1958
Take these items on food runs that require time and temperature control:
CFR food labels for prepared foods (if not already labeled)
Thermometer and alcohol swabs (for time and temperature control for safety (TCS) foods.
Insulated bag, thermal blanket, or freezer brix (when food runs are more than one hour).
If you'll be handling produce or loose bakery items, make sure to take:
Food grade, single-use (disposable) gloves